The authorities are following a lead that the baby who was abducted at the Port Mourant market last Saturday, has been taken to Suriname, a West Coast Demerara police official has said.
After another failed arrest yesterday afternoon, police received information that the infant might have been taken to Suriname.
Around 5 pm yesterday police at the Leonora Police Station received information about a woman and a baby matching the description of the kidnapped infant dwelling at Windsor Forest, West Coast Demerara. The woman was arrested and taken to the station where she was interrogated.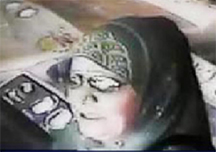 However, it was confirmed that it was a different baby and the woman was released.
Sandra McLean, 22, of Number 60 Village, Corentyne gave birth to a baby boy on May 16 at the Skeldon Public Hospital.
While she was still hospitalised, she said, a woman identifying herself as Bibi Khan of Nickerie, Suriname, visited her and the baby. She had never met the woman before.
The following Saturday, McLean said, she was making preparations for the baby's ninth day celebration, in accordance with her religious customs, when Khan went to her home and told her to dress the baby as they were going to go to Rose Hall Town to get some items for the celebration.
McLean recalled that they went to the town and picked up some items. Before she returned home, she said, she stopped with the woman at the Port Mourant market. Khan, she said, had expressed a desire to purchase some hassar.
The young mother explained that she went into the market to buy the hassar after Khan insisted taking the baby into the fish section would upset him and asserted that she would keep him.
She said that on returning to the meeting point, she realized that Khan and her baby were missing.
McLean said she searched the entire market and surrounding areas for her baby but all her efforts were in vain.
Her family was alerted and a report was made at the Whim Police Station. Surveillance footage of the alleged kidnapper in Rose Hall Town has been handed over to the police in 'B' Division to aid in their investigations.
Around the Web