To some she is known as the 'Iron Lady' – maybe for the same reason former British Prime Minister Margaret Thatcher was so dubbed – but when Jacquelyn Major is out in the street supervising road projects she knows she must have an iron grip on what is happening to ensure the timely and exact completion of works.
Major is an engineer but she is not too concerned about being in what some call a 'man's world'; rather she loves what she does and everyone she supervises must fall into line to ensure the success of the project.
She was dubbed the 'Iron Lady' by engineer Joseph Holder – better known as 'Joe the bridge man' as he worked on the Demerara Harbour Bridge – because when he saw her interacting with the workers she always seemed stern and tough.
Is she? "Well you need to be because if you are a pushover then nobody would take you seriously," she told the Sunday Stabroek in a recent interview.
"There are times when you need that approach when you are dealing with contractors and workmen in the field."
At any given time Major can be found at the site of a bridge or road under construction decked out in jeans, a long-sleeved shirt, floppy hat and of course construction boots, and for her that it the ideal working situation. But she does not spend all her working days in the sun (and sometimes even into the wee hours if the morning if timely completion is to be achieved); she is also in the office as sometimes it is the contractor and not the workers she supervises.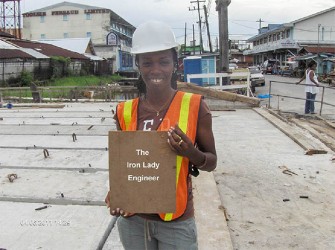 In a sit-down with the Sunday Stabroek the soft-spoken Major (it is hard to imagine her being the Iron Lady with workers) recalled that initially she wanted to be an architect but she later decided that there is "little scope" for architects in Guyana and as such she drifted to engineering since she believed that she would be trained in more subject areas.
After the President's College Major enrolled at the Government Technical Institute (GTI) where she was advised to study civil engineering and she found she was "fascinated by structures, not buildings per se, but road structures and construction on the whole." For her the 'how it was done' and the science behind it was her motivation make this career choice.
From GTI she moved to the University of Guyana where she first read for a diploma in civil engineering. She recalled that in a class of over 60 students there were about eight females and at the end only four of them had completed the programme. While she does not want to hazard a guess as to why the others dropped out she noted that many males also did not complete the programme, explaining that it is usually a gruelling one as students have to carry about eight courses per semester.
"The diploma year is very difficult, and in most cases you find most persons are not able to fully grasp everything in the diploma years and you may not perform as well. In my case I was average in the diploma years and it is until you go off to attachment and you are guided by senior engineers then you come to appreciate and understand what all the work is about," Major said.
This attachment period, which is a must for the programme, as after this the student then moves on to the degree programme, ensures that the student is equipped with what is needed to apply themselves. During the attachment period Major said they had to submit monthly reports to the university on their progress and the university was also in contact with the employer.
She recalled that a female owned the company she was attached to (B&J Engineering) and she was very helpful and mentored her during her stay, which helped her to become an engineer and understand the principles of the job. It was during this process she was able to apply all she had learned during her diploma years and she described this as an "eye opener." While in the end she did not graduate with a distinction, Major said she did much better during her degree year and she was happy with her final grades. She said she owed it all to what she had learned during the attachment period.
Instead of one year Major spent two years on attachment during which she saved enough to pay for the degree progarmme, and today she is not burdened with the dreaded student loan.
On the job
On the job she has worked with both construction and consultancy companies – Major quickly realized that being young and a woman meant that the men on the job would not always jump to take her instructions, and there was some hesitation. She also learnt that not because she was the supervisor it meant that she should be aggressive towards the workers, as most times this would be counter-productive.
"You need to humble yourself," she said quite matter-of-factly, adding that "You just need to explain to them what you need done."
For her once the workers know that you "are not just trying to be their boss," they would do the work. But there were those times when the workers just would not move and "a few times you lose your temper and have to use some construction language." This 'language' of course includes profanity, and Major said there is no escaping it as it just "happens sometimes."
"I think if you talk to most female engineers they would tell you that at some point and time they would have had that," she said.
What is construction language?
She laughed.
"Construction language, you curse… seriously there are times when workmen would frustrate you…" Major said, adding that she is not convinced that this is done only because she is a woman, but more because she is young and the workers are older men.
For her whatever it takes to get the work completed correctly and in a timely manner would be done.
But she understood that being humble was key and there were times you had to demonstrate what you needed done as this also indicated to the worker that you knew what you were talking about, and they would at times put the engineer to the test by not following the instruction. They do this because they believe at times the engineer only knows the theory and Major said there were times when she had "led by example."
There were a few cases when some workers were downright rude and Major said in these cases she would report the matter to her superiors, who would call in the errant worker and once it was sorted out with one individual the others got the message.
As the supervisor on site Major also has to ensure that the workers have on the requisite safety gear, and while there has been some minor accidents owing to negligence, she is happy that there have been no major accidents under her watch.
"Safety is paramount, and sometimes the workers don't really understand the seriousness of it, but once you explain to them they would comply… There are rules; if they don't wear the safety gear you can ask them to leave the site and come back with it."
For Major soon in Guyana the profession would not be seen as a man's profession as every year more and more females are graduating.
To young women who plan on studying engineering and even those who are in the field Major advises that they take a proactive interest in their own progress even though a lot of support would be given while gaining their professional qualifications.
"It's okay if you do not have or know the answer when questioned about some aspect of the job, but people gain respect for you when you give an answer at a later time," she said.
"And never be afraid to tell those you supervise what to do or what is required of them. And if you are already in the field and [are] not a member of the Guyana Association of Professional Engineers (GAPE) join now as you would need the support of the fraternity at some point."
Major also advises that they should continue their education, and she plans to do her Masters in transportation engineering, but she is not yet sure what aspect that would involve.
She is the secretary of GAPE and between work and her duties as secretary, she said, there is hardly any time left for other activities.
The 31-year-old Major is the eldest of three daughters and she is currently employed with SRK'Ngineering Inc.
Around the Web