The execution of Rawle Newton, also known as "Satan Ambassador," may have resulted from the collapse of a court case in which he was the accused in the murder of two men, according to a security source, who says frustrations with the failings of the court system may have driven persons to take matters into their own hands.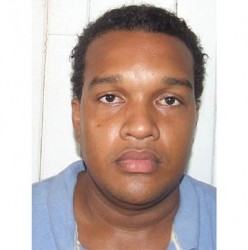 Whether it was an act of revenge or an attempt to silence him, the source says that the true motive for Newton's death will likely remain unknown and his murder will be added to an already growing list of unsolved murders.
The body of Newton, 27, was found with three gunshot wounds in the isolated and poorly lit Eccles Industrial Site, offering little hope that investigators would be able to pick up any useful clues.
Newton, of Lot 119 Caesar Street, Agricola and Lot 35 Princes Street, Lodge, according to the police, was found around 10 pm on May 24 on the roadway with gunshot injuries to his head, his side and his arm. He was positively identified by his mother and other relatives days later.
Contacted yesterday, Crime Chief Leslie James said that while there have been no developments in the case, the "investigation is an open one." He said that so far there is no motive and no arrests have been made.
He was unable to say if police have found and reviewed any camera footage from the area and expressed hope that this aspect would have been checked already. "The investigation is an open one up to this point. I don't want to speculate… the detectives are working," he said.
Meanwhile, a security source told this newspaper that Newton had been discharged of the murders of two gold dealers after witnesses, including policemen, failed to attend court. At least one of those policemen, the source said, was disciplined. "He was transferred but I don't know that that is disciplining," the source observed.
The source noted that it was the police who were tasked with prosecuting the cases and so police witnesses should have been more easily accessible than the civilian witnesses.
According to the source, it was a high profile case and the police prosecutor should have ensured that evidence was presented to the court in a timely manner. It seems hardly unlikely that fear could have motivated the police witnesses not to turn up, the source added.
'Persons out there wanted him dead'
Newton had been charged in 2010 with the murders of gold dealers Ramdeo Deonarine and Jainarine Raghubir. Ex-soldier Keron Herbert was subsequently arrested and charged with the murders as well, while several others had appeared before the court for aiding and abetting Newton and for also receiving some of the cash and jewellery that were stolen from the slain men.
Millions of dollars in cash, gold and diamonds were taken from the Second Avenue, Bartica house where the bodies of the two gold dealers were discovered on the morning of Sunday September 5, 2010. Deonarine, 50, of Ruby, East Bank Essequibo and Raghubir, 43, of Fairfield, Essequibo Coast, were discovered on the kitchen floor of the house. They were bound and bore deep wounds to their throats.
Stabroek News understands that when the charges against Newton and Herbert were discharged, Newton calmly walked out of the Bartica Magistrate's Court and boarded a car. Herbert, however, was re-arrest before he could leave Bartica.
Based on what this newspaper has gathered, Newton, who was living in Bartica at the time, had worked with one of the slain men. He had denied knowledge of the murders, saying that he was outside of the building the men were in when their lives were taken. The source said it can be concluded that because of what Newton saw happening he got an idea and committed a robbery with others that later went horribly wrong.
Speaking about the man's death, the source said that from his perspective, "the boys were getting frustrated and seem intended to take matters into their own hands." The source said that this could either have been as a result of the freeing of Newton and something related to his lifestyle.
The source said that what is clear is that Newton was executed. "They took him to an isolated spot where there is hardly any traffic," the source explained, while pointing out the fact that Newton had gone into hiding after he was freed was an indication that he had something to fear.
He said he is concerned that people seem to be driven into taking matters into their own hands because of how cases are being thrown out in the Magistrate's Courts. The source added that if Newton had been arrested, there was no guarantee that he would not have gone free again.
According to the source, Newton's death was an act of revenge or his killer(s) simply did not want him to be captured. "This case has to be looked at from all different angles… what is certain is that persons out there wanted him dead," the source stressed.
Criminal background
From all indications, it does not appear that Newtown had much of a criminal history before September 2010. This newspaper has, however, been told that he may have been engaging in pretty crimes prior to his arrest.
Asked about his nickname, the source said that he did not get any impression that Newton was a person who had committed a series of serious crimes to earn the name. A car belonging to him, which was seized, had the words "Satan Ambassador" printed on it.
James told Stabroek News that the dead man came to the notice of the police subsequent to the double murder and he could not provide information as it pertains to his activities before then.
Asked if he might have been part of a gang, James said he did not think he had heard any mention of that.
Newton was accused of committing an armed robbery on Charles James on February 15, weeks after he had been freed. Police, when they issued a wanted bulletin, did not provide any details about the circumstances surrounding the armed robbery.
The bulletin was issued on February 20, the same date that money-changer Bridjlall Persaud was killed on Lombard Street. Days after Newton died, police said he was wanted in connection with the Persaud investigation. Police had never previously linked Newton to this crime.
Asked about Newton's links to this murder, James told Stabroek News that a person can be a suspect based on a numbers of things, including actually being reported as a possible suspect by witnesses, fingerprints or other means.
Police had said in a statement that Persaud, who was in his car, was attacked along Lombard Street, opposite the Builders Lumber Yard. According to the police, Persaud was driving his vehicle along Lombard Street, Georgetown, when two men, one of whom was armed with a handgun, shot him and stole a bag containing $1 million. At the time, Persaud was heading to America Street, where he plied his trade.
The source stated that it is unfortunate that after persons of a questionable character are killed that police then link them to crimes. He questioned why, just like in the case of the armed robbery which is of a less serious nature, a wanted bulletin was not issued for Newton in connection with the murder.
The source noted that a person is innocent until proven guilty and to level an allegation after a person has died is unfair as the accused person cannot defend himself. The source noted too that the armed robbery allegation seemed a little off and he questioned why Newton would want to put himself in such a situation so soon after he was out of prison and when he was supposed to be "lying low….a lot of what is being said just makes little sense and the unfortunate thing is that we may never know what really happened. As the family said there will be no justice."
Around the Web