Four persons were hospitalised last evening and their vehicles badly damaged in two accidents which occurred in and around the capital city.
The first occurred in Oleander Gardens, East Coast Demerara (ECD) along the Rupert Craig Highway, where a Toyota Alteeza (licence plate PLL 2111) veered into the canal which runs parallel to the road while attempting to avoid a scooter and its two occupants, Sharmila Baksh, 29, and Nazim Baksh, 52, which were in its path.
The driver of the Alteeza was detained by police for colliding with the motor scooter (licence plate CG 7956) and causing harm to its riders, both of whom were taken to the Georgetown Hospital for treatment. Sharmila suffered a lacerated lip while her husband, Nazim, sustained head injuries. An eyewitness however, said that the Alteeza never collided with the motor scooter and its riders.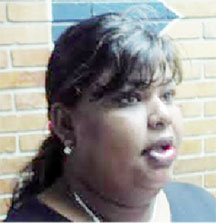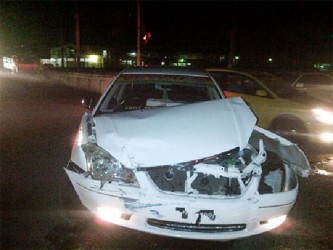 The witness says that the Alteeza and another vehicle were drag racing along the highway's west-bound lanes when the other vehicle collided with the motor scooter and sped away. The scooter is said to have entered the path of the Alteeza, which braked and swerved left into the canal in an attempt to avoid the scooter and its occupants.
The eyewitness's account was corroborated by Sharmila as she spoke to reporters at the hospital. She explained that after she and her husband were hit, she was assisting her husband up when she witnessed the Alteeza going overboard. The woman said the vehicle was in no way connected to her own accident.
Meanwhile, even as an ambulance raced to collect the injured from the East Coast accident, a two-car smash-up at the junction of Camp and Lahama streets left two women in need of medical attention. In this case, a Toyota Premio travelling west along Lamaha, attempted to cross Camp Street when a Toyota Raum, moving south along Camp, jumped a red light and entered the Premio's path.
One woman sustained an injury to her left foot while another suffered injuries about her head and torso.
The Raum was broadsided as the Premio smashed into it. As eyewitnesses scrambled to organise transport to take two injured women, who were travelling in the Raum to the hospital, the vehicle's driver was heard explaining that he jumped the red light because he was rushing a child to the hospital. The Premio's driver was travelling with his wife and child, neither of whom suffered any injuries.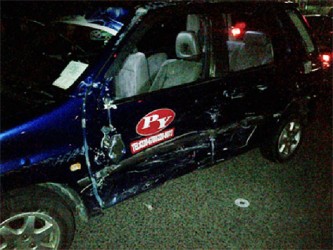 Around the Web