A thirty-eight-year-old handyman died on the Linden/Soesdyke Highway early yesterday morning after he was hit by a Toyota Tundra.
The body of David Bridgelall Jhaman was discovered, sprawled and face down in a clump of grass, by relatives around 06:00hrs, although they believe the accident occurred sometime after 01:00hrs.
His older brother, Michael Jhaman, told Stabroek News during an interview yesterday that he and Jhaman attended a wedding celebration at "Hill Foot," Soesdyke on Saturday night, and that he believes Jhaman was on his way to his 84 Soesdyke home when he met his end.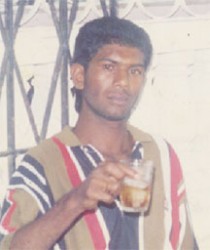 Michael noted that "the rain beena fall heavy, heavy and the place beena dark bad" around the time Jhaman is believed to have left. Michael eventually left the celebrations at 05:00, and was alerted to his brother's death almost as soon as he got home.
He told Stabroek News that a friend of the family visited their home, just opposite the Linden/Soesdyke Highway junction, and informed them that Jhaman's body was seen lying a few feet off the highway's northern lane. The family quickly mobilised and made the almost one-mile journey to where the man's body lay.
His mother recalled that his face was badly damaged; bearing several abrasions and what seemed like two holes. She believes this is where he was struck. One of his arms was also reported to be badly mangled. She added that his face was extremely bloodied, which made identifying him difficult.
While the family waited for the body to be picked up, the driver of the vehicle which hit him arrived at the scene to assist the police, who by then had commenced an investigation. Michael said the man told them that he reported the accident to the Timehri Police Station shortly after it happened early yesterday morning, but was told by police to go home and come back around 08:00hrs since it was raining heavily. He added that he initially tried to report the accident at the police outpost in Yarrowkabra but found the doors locked.
The man is said to have told the family that, at the time of the accident, Jhaman was walking on the northern side of the highway while he was driving west on the highway's southern lane. Jhaman's relatives though, are questioning the logic of his body being found several feet off the northern section of the highway if the vehicle which hit him was indeed moving along the southern section.
The driver of the vehicle, up to yesterday afternoon, remained in police custody assisting with the investigation.
Around the Web