Electricity is being rationed in Lethem with the authorities now fixing a bridge on the Linden-Lethem trail that caved-in over a week ago, limiting fuel supplies.
Another problem has however arisen as the laterite trail is deteriorating following heavy rains recently.
Sections of the bridge at 33 Miles, between Kurupukari and Mabura, caved-in over a week ago restricting the size of vehicles that can cross it with fuel tankers heading to Lethem being unable to cross, several travellers who traversed the trail recently told Stabroek News. "It's very scary to cross," one bus driver said.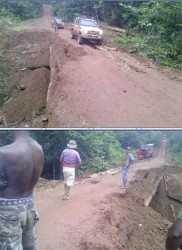 A Lethem resident said that power is being restricted with several hours of power outages on Friday, while on Saturday, the power was cut from 4am to 6pm and yesterday there was no electricity from 4am to 5pm. The resident said that the power company was rationing their fuel. "At least they want to give people current in the nights," he said.
"The road is in a mess, a real mess," one truck driver who travelled the road recently told Stabroek News. He requested that his name not be published due to fear of victimization from the authorities.
Another traveller said that the 33 Miles Bridge is being fixed with road maintenance crews from MMC expected to wrap up work yesterday.
But recent rains have caused sections of the road to start deteriorating. One driver said that the contractors are taking a long time to do maintenance. "All the deep, deep holes are still there and the rain now stepping in," he said. He added that in some parts, laterite was thrown on the road but not compacted. "They just throw the stuff and grade," he said, while adding that as soon as the rains come, the laterite washes away and the potholes form with the road being very slushy.
He said that a bridge which collapsed last Christmas, has deteriorated with the laterite being washed away. "I doubt anybody gon put any cap on it. If they put a cap on it, it gon be slushy," he said. Some drivers have begun to use an alternative route via Frenchman to bypass the bad spots and get to Lethem. It is much faster and there are no hills or creeks and it should be maintained, one said.
Other sections of the road around Annai and in the Iwokrama forest have begun to deteriorate, Stabroek News was told. Drivers said that the rainy season has started and the situation could get worse. The Linden-Lethem road has repeatedly deteriorated over the years particularly in the rainy season and sometimes it has been made impassable due to floodwaters and slush. During these times, power and supplies from the coast to Lethem have been affected.
Around the Web