Subverting protocol, Minister of Local Government Norman Whittaker dispatched a letter to the staff of the Georgetown Municipality inviting them to discuss the way forward in a bid to divide and rule, Mayor Hamilton Green said on Friday.
Speaking at a press conference at the National Library, Green described the action as the "executive lawlessness of a shameless cabal" and called it an unpardonable deed. Whittaker's letter, he said, contravenes all of the protocols of the municipality and is at the very least disrespectful to the Mayor and duly elected councillors of Georgetown. Attempts to elicit a comment from the minister proved futile.
Lambasting the recent behaviour of the minister as pathetic, Green said that to date Whittaker has issued no word on the actions of acting Town Clerk Carol Sooba, including the lock out of the council and public from a statutory meeting, the removal of the public address system and the decision to rent spots along the seawall on Easter day despite a council resolution against it.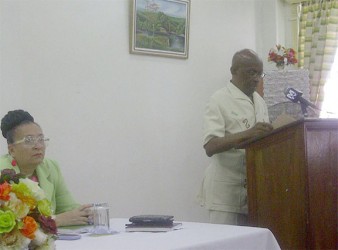 Green said the country is being run by a new brand of tyrants but he and his council will not be moved.
In a bid to demonstrate to the public the actions of the PPP/C regime in stifling the authority and financial viability of the council, Green listed over 10 events. Green said that it is customary that the Mayor of Georgetown be granted a seat on the board of Guyana Water Incorporated as the two have worked in tandem but this was denied. He mentioned that the council requested a portion of the country's environmental tax but this was refused. He further stated that the council requested a portion of the container tax but this too was denied. The Mayor said he had proposed that Guyana Power and Light pay a fee for installing utility poles on parapets but this was denied. Green said he proposed a new lottery venture to raise funds, but said the idea was stolen and implemented under central government. Green said that a waste conversion to energy proposal had been submitted to the government through the council but this too was rejected. A speed boat facility to maintain the wharf had also been proposed to the government by Green, but he said this was also rejected. A parking meter system to generate revenue and even alleviate the parking problem in central Georgetown had also been rejected by the government, according to Green. Finally Green said he asked the government for a Local Government Commission but this too was denied and is the cause for the ills plaguing the council today as was pointed out by Acting Chief Justice Ian Chang.
In the end Mayor Green called on the government to give the Guyanese people Local Government Elections.
Deputy Mayor Patricia Chase-Green also made remarks and the press conference was also attended by Royston King and several other councillors along with members of the public.
Around the Web