A Rubis gas station employee was robbed on his way to make a deposit at Demarara Bank early yesterday morning.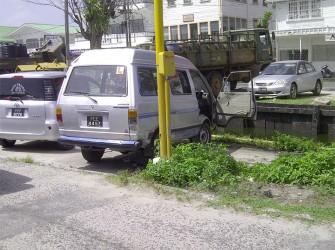 Rubis employee Mitra Narine was making a routine trip to Demarara Bank on Camp Street and South Road, to deposit money on his employer's behalf. At approximately 9.30 am after he parked along South Road, he was approached by a man who placed a shotgun to his head through the window of the silver Nissan minibus licence plate PEE 4457 and snatched the deposit bag with the money. According to reports, the bag contained some $5 million.
The assailant who was wearing a black t-shirt and dark shades then ran east along South Road where his accomplice was waiting on a black CG motorcycle.
The accomplice was wearing a white t-shirt.
Police arrived on the scene shortly after the incident and the driver was asked to take the vehicle to the Brickdam Police Station escorted by the police. He was reportedly not considered a suspect.
Around the Web