A father of three was yesterday morning struck down and killed as he attempted to cross the road at New Hope, East Bank Demerara (EBD) and some four hours later another man was killed when the car he was in crashed into a utility pole on the West Coast Demerara (WCD).
Dead is Hilton Nedd, 38, of 209 20th Street, Section 'C' Diamond Housing Scheme, EBD, who was hit by a sand truck bearing the licence plate GMM 2171.
The accident occurred at approximately 09:00 hrs in front of West Wood Lumber Yard, where Nedd had worked as a labourer up to 3 weeks ago.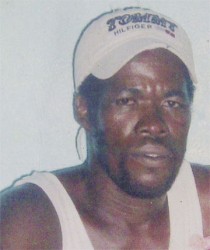 Eyewitness Sanjay Ramdass, son of the proprietor of West Wood Lumber Yard, said Nedd, also known as 'Monkey' was standing on the eastern side when he attempted to cross the road.
Ramdass said Nedd started to cross, stopped and then suddenly bolted across the road. He was hit by the right front wheel of the truck, which was described as moving at a normal pace.
Ramdass said those kinds of trucks would have much difficulty slowing down even at a normal pace because of the weight and load, which builds more momentum. He also gave a statement to the police regarding the matter.
Sister of the deceased, Pauline Benn said that Nedd lived at her home. She said that she was informed via a phone call that her brother was lying on the road in front of the popular lumber yard.
Upon arriving at the scene, she saw his lifeless body under the truck, covered with a sheet. Benn said his tongue and other body parts were protruding.
She said his body was picked up by a hearse and the police prompted her to follow the hearse to the Diamond Diagnostic Centre where a doctor would pronounce him dead.
However, she related that the security guard at the hospital said the body was directly sent to Lyken's Funeral Home instead.
Nedd leaves to mourn an 8-year-old daughter and 6-year-old twin sons, who live in Sophia with another sister. The three children are now orphans since their mother died some 18 months ago. Benn said that just the previous morning Nedd had gone to Sophia to take money for them.
Meanwhile, Paul Gonsalves of Pomeroon, Essequibo died yesterday afternoon after the driver of the vehicle he was in lost control and collided with a utility pole at Greenwich Park, WCD.
Police said Gonsalves was pronounced dead on arrival at the Leonora Cottage Hospital. Another passenger, Gillian Raphael, 23, also of Pomeroon was admitted to the Leonora Cottage Hospital.
The police said the drivers in both accidents are in police custody assisting with the investigations.
Around the Web