By Dacia Whaul and Desilon Daniels
After nearly six months of investigations into the alleged police abuse of detainee Colwyn Harding, two constables Devin Singh and Rosel Tilbury-Douglas were yesterday afternoon charged with assault and released on bail.
Although the policeman had been accused of inserting a condom-covered baton into Harding's anus, Singh was only charged with two counts of assault, including a joint charge with Tilbury-Douglas and his lawyer dismissed the rape allegation as "scandalous." Singh and Tilbury-Douglas both denied the charges and were released on $200,000 and $100,000 bail, respectively, following their arraignment before the Chief Magistrate in Georgetown.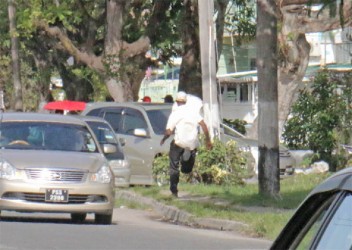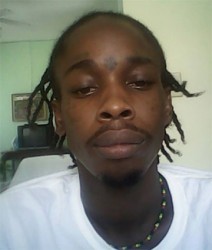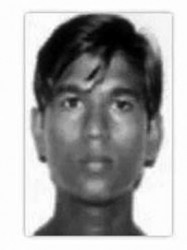 The allegations by Harding, who said he was sexually assaulted during his arrest at a house at Timehri and physically assaulted later at the Timehri Police Station last November, triggered new public outcry over police abuses while the length of the investigation has also been a source of concern. In addition to the two constables who have been charged, the Guyana Police Force (GPF) yesterday announced that departmental charges will also be brought against some other ranks involved in the matter.
The charges were read against Singh and Tilbury-Douglas shortly after 2pm yesterday, after they were sneaked into the court through the rear gateway usually used by magistrates and court workers. Their arraignment lasted only ten minutes but the constables took two hours to exit the courtroom as they sought to avoid journalists who were staking out the complex. Singh later fled the compound with journalists in hot pursuit.
It is alleged that Singh, of Lot 125 Mon Repos, East Coast Demerara and Tilbury-Douglas, 26, of Alliance Road, Timehri, East Bank Demerara, assaulted Harding during the period, November 1 to November 13, 2013, at Timehri Police Station, causing actual bodily harm. Singh was also separately charged with unlawfully assaulting Harding.
Singh, who was dressed in civilian clothing and Tilbury-Douglas in a police-issued shirt and boots and a grey jersey, both pleaded not guilty after the charges were read to them.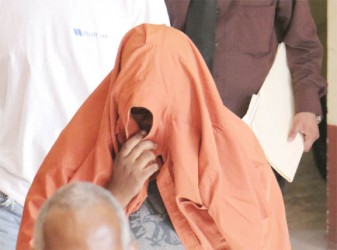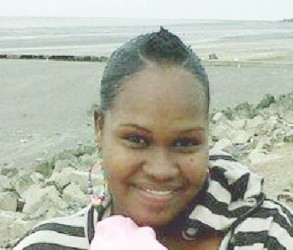 Singh's lawyer Glen Hanoman asked Chief Magistrate Priya Sewnarine-Beharry not to issue bail over $200,000, which would warrant him having to obtain a manager's cheque. Hanoman stated that his client, who is a serving member of the Guyana Police Force (GPF) for the past 12 years, had been reporting to the police and was never asked to lodge any monetary bail.
The attorney added that Singh found himself at the Brickdam Police Station and later the Georgetown Magistrates' Courts after he received a call about yesterday's arraignment. Hanoman also pointed out that the charge had nothing to do with the alleged baton rape, which he described as "scandalous" reports in the media.
Following suit with a bail application was attorney Leslie Sobers, who represented Tilbury-Douglas. He said his client, a serving member of the GPF for the past four years, had never found herself in what he labelled a "predicament" before. He further stated that Tilbury-Douglas has always been available to the police without the need for bail and added that she was not placed under close arrest for an extended period. Additionally, he said his client will appear in any court to give evidence to support her contentions and to "expose the deceit…." Sobers reiterated that his client is a serving member of the GPF and is therefore not able to leave the country at will and is therefore not a flight risk. He also said that she has no passport and as a result asked the Chief Magistrate to order her release on her own recognisance.
Hanoman at that point, told the court that Singh has a passport and is willing to lodge it.
Subsequently the Chief Magistrate set bail at $100,000 for each defendant on the joint charge and an additional $100,000 bail for the additional unlawful assault charge against Singh. He was also ordered to lodge his passport, while Tilbury-Douglas was asked to report to a Police Sergeant Stevens every Friday pending the outcome of the proceedings against her. Both matters were transferred to the Providence Magistrate's Court, where they will be called again today.
'A great escape'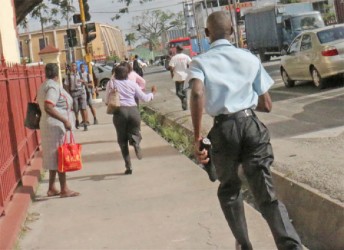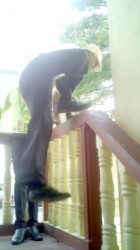 During the proceedings, both Singh and Tilbury-Douglas appeared calm until they realised that journalists were awaiting their emergence to capture them on camera. Singh was seen pacing in the courtroom and talking on his phone, while Tilbury-Douglas was sitting and had relatives occasionally look through the door for the waiting cameras. They did not emerge until about two hours after, by which time all other matters had been concluded and most of the staff had left.
The pair chatted warmly with several of the police officers present. One of the officers later attempted to dissuade journalists from taking photos and attempted to divert their attention elsewhere while other persons acted as lookouts for the pair. The room was even locked to the public after the day's proceedings.
Eventually, they made their exit. Shrouded beneath an orange shirt, Tilbury-Douglas left in the company of her lawyer and several other persons. Almost simultaneously, Singh peeped his head out of the prisoners' chute but quickly retreated when he was confronted with the cameras. He instead backtracked through the chute and made his way to the exit his co-defendant had taken. Hat in his face, he calmly walked down the court steps as three reporters stood at the exit. He had apparently not registered immediately that the persons outside his getaway were reporters. Instead, he waved genially and called out a friendly, "hello."
However, he soon caught on and jumped over the banister of the steps, making his way quickly to the exit reserved for magistrates, court workers and officers.
By that time, yells had been raised alerting the other reporters to Singh's exit.
Though he tried to blend in with the pedestrians on Brickdam, Singh was nevertheless spotted and hotly pursued. A full-on chase occurred, with Singh in front while reporters sprinted behind him for footage.
He made his way to the nearby Brickdam Police Station, where he was offered sanctuary. Reporters were forced to wait outside as several officers came out to prevent entrance into the compound.
A few officers feigned ignorance about the man's whereabouts. "We ain't know wha' y'all talking 'bout," they said. "We ain't know where he deh."
Harding had accused a police constable of ramming a condom-covered baton up his anus and later physically assaulting him last November. Singh, who was at the time stationed at the Timehri Police Station, was placed under close arrest before being allowed to resume normal duties at another location. Several ranks from the station were also transferred as a result of the allegations.
Harding's story was never made public until January.
According to his mother, she had informed senior officials that her son had been sexually assaulted and the complaint was handled at the Brickdam Police Station, but nothing was done. Following the publication of Harding's plight – at the time he was hospitalised in the Georgetown Public Hospital where a hernia operation had been performed on him – the matter was immediately handed over to the Force's Office of Professional Responsibility.
After making recommendations, the case file was sent to the head of the Police Complaints Authority Cecil Kennard and later the Director of Public Prosecutions (DPP). However, the DPP sent it back to the police with a request for additional investigations. There were several other movements of the file back and forth
The hospital had said that it was never informed that Harding had been allegedly raped and during their examinations of him, they did not see any signs of it.
Harding, however, later underwent two private examinations, one at a private hospital here and the other in Jamaica and the conclusion from both was that a foreign object had been inserted into his anus.
Around the Web