People's National Congress Reform (PNCR) lawyer Basil Williams yesterday attacked the credibility of former House of Israel priest Joseph Hamilton, suggesting that all the testimony that he has given to the Commission of Inquiry (CoI) into Walter Rodney's death is untrue and calling for the PPP/C Member of Parliament (MP) to be charged with perjury.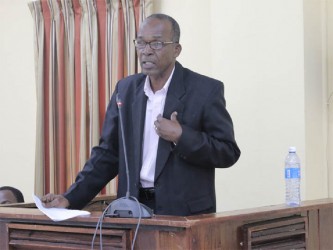 Williams, during his cross-examination, accused Hamilton of making scandalous and false allegations not only against him but also a former leader of the PNC, following his testimony on Monday that at the behest of the then governing party PNC, the House of Israel disrupted Working People's Alliance (WPA) meetings during the late 1970s. He also said that a member of the ruling party later armed the group with guns as there was concern that the WPA might retaliate because of the "more suppressive" techniques used to disrupt meetings.
Williams is looking out for the interest of the PNCR at the hearings. The PNC, during its time in government was accused of engineering the death of Rodney, who was a co-leader of the WPA and a fierce opponent of the Forbes Burnham administration's rule.
During the completion of his evidence-in-chief at the Supreme Court law Library yesterday, Hamilton said he regretted the activities he was engaged in while a member of the House of Israel. The now 60-year-old grandfather said that he made a bad choice and a bad decision, which caused great harm to people. "There are regrets. I continue to live with that past. It is here with me and so I have no difficulty presenting the past as I know it, as I participated in it," he stressed. He added that the only hurdle he has to cross is having a conversation with his wife and children. He said once they indicated that they are prepared to support him, what anyone else says does not matter.
"…In light of the evidence you have given, would you agreed with me that you are standing in the capacity of what is popularly called a snitch?" Williams asked. Hamilton, in response, said that he did not know what that meant and he later agreed that he was a whistleblower.
He denied that he was betraying loyalty and explained that he thought that it was his moral duty as a citizen of Guyana to come to the inquiry and to speak about his activities in an organisation that participated in terrorising opposition persons. "If you interpret it as a snitch, a whistleblower, dishonorable, that is your problem. I thought it was my moral duty…," he stressed.
Asked why he never made these revelations years ago, Hamilton said that the opportunity never presented itself and this was the "opportune moment… this is the opportunity."
In testing Hamilton's loyalty in the political arena, Williams pointed out that he was in the House of Israel, the PNC, the Good and Green Guyana and now the PPP. Williams, after being asked about the relevance of his line of questioning to the Terms of Reference, asked that he be allowed to question Hamilton's connection and commitment in these organisations. He noted that what he was asking was related to the testimony the witness had already given.
Williams told the commission that his position is that everything said by Hamilton was untrue.
Referring to the April 2007 Hansard, Williams read sections in which Hamilton, who was then a Member of Parliament for the PNCR-1G, criticised the PPP/C government. Hamilton, after hearing what was read, said that he could not recall saying the words in the National Assembly but if they are stated in the Hansard then they must be true. "Presently I have no difficulties representing the party that I represent," he, however, added.
Called names
Commissioner Seenath Jairam inquired whether the witness's credibity was affected because of him changing parties. Williams said it was. "That is only one factor when you hear the rest, because he has called names. He had called the name of the former leader of the opposition, the leader of the PNC… I will show you why he did that. I don't know why he called my name… I was never around," Williams stressed.
Williams then proceeded to ask Hamilton about his involvement in the GGG party. The witness said that from 1994 to 1997 he was a city councillor and member of the GGG, which was headed by Hamilton Green. Asked why he did not mention this during his testimony, he said that he did not believe that this information was relevant but made mention of it in the statement he submitted to the commission.
He disagreed that he had a falling out with Green and added that he had resigned from party and later the National Assembly.
He also disagreed that he subsequently had a falling out with PNCR leader Robert Corbin, which led him to remove himself from the party. He said that his last participation in the PNCR was in the 2006 elections, when he was the chief elections scrutineer and was responsible for paying attention to returns coming in, paying attention to statements of poll, and tabulating votes, among other things.
Williams suggested that because he was given such a role, he would have expected to be named an MP for the party. Hamilton, however, said he had no expectations and admitted that he was not chosen as an MP.
"And we know that you are very bitter about that," Williams said.
"No, I was not bitter," Hamilton replied.
Williams later suggested that Hamilton had a falling out with Corbin because he had neglected his duties on elections day.
Asked why in his statement he included the name 'Basil Williams,' Hamilton said that he thought it relevant to the commission's terms of reference.
Williams disputed that he was a lawyer before 1983. He further stressed that Hamilton could not have met him between 1978 and 83 and he maintained that he did not know House of Israel leader Rabbi Edward Washington before the 90s.
"I have to show that he is maliciously putting the name there… like the other evidence," he said, stressing that his name was mentioned and that was where the danger lay. "Why would you encourage a witness to come to your inquiry to speak untruths?" he asked the members of the commission, before questioning if the linking of a lawyer's name to Washington was not important.
When asked again about his line of questioning, the attorney told the commission, "I have to show that he is maliciously putting my name… I never met him (Hamilton), nobody like him not until around 1994 when GGG had its elections. It is a blatant lie."
He then urged the commission to invoke proceedings for perjury. "I am serious…," he said.
Hamilton stated that it was not a lie that leader of the House of Israel, Rabbi Washington, had introduced him to Williams.
Hamilton earlier spoke of how Washington would pay money to judicial officers and members of the police force for favours in relation to matters before the courts and matters under investigation. He said that some of these officers would be visited while some would visit the House of Israel headquarters.
He said that as far as he knew no one was ever charged with misbehaving in public office.
Hamilton also spoke of the two bombs that were planted and exploded outside the House of Israel headquarters in 1979. No arrests were made, he said. He explained that there are two theories as to who might have planted the bombs: the WPA because of how the House of Israel dealt with the party; or the government of the day, which may have had enough use of the House of Israel.
He also said that he can't remember any member of the House of Israel having a licence for the firearms that they carried. He said that he never had one.
Williams is expected to continue his cross-examination today and the other lawyers representing other organisations are also expected to cross-examine the witness.
Former army chief Norman McLean is also expected to testify before the commission today.
Around the Web