Certified anti-money laundering specialist Toussant Boyce on Monday told members of Guyana's private sector that the country should aim to meet and surpass international standards for its anti-money laundering and countering the financing of terrorism legislative (AML/CFT) architecture.
He was at the time delivering a lecture on anti-money laundering and anti-terrorism financing efforts by international bodies, such as the Financial Action Task Force (FATF) and its regional functionary, the Caribbean Financial Action Task Force (CFATF), at the Pegasus Hotel.
His lecture came as the local private sector braces for fallout from CFATF's recent decision to call for stepped up countermeasures to be adopted by its 34 members "to protect their financial systems from the ongoing money laundering and terrorist financing risks emanating from Guyana." In addition, Guyana was referred to FATF for further consideration.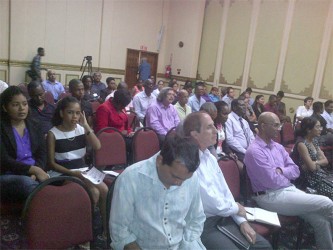 CFATF stated countermeasures taken by its members towards Guyana can include "the requirement of enhanced due diligence measures; introducing enhanced reporting mechanisms or systematic reporting of financial transactions; refusing the establishment of subsidiaries or branches or representative offices in the country concerned, or otherwise taking into account the fact that the relevant financial institution is from a country that does not have adequate AML/CFT systems and limiting the business relationships or financial transactions with the identified country or persons in that country."
Boyce told those gathered that countermeasures are likely to be proportionate to the level of risk Guyana's insufficient legislation poses to other territories and the wider international financial system.
During his lecture, Boyce also noted the specific nature of Guyana's AML/CFT situation and provided a parallel of sorts in an effort to suggest that progress is plausible despite the road bumps. He did so, however, while asserting the neutral, unbiased nature of his presentation. Boyce explained that his is aware of the realities concerning the issue in Guyana and wants desperately to not be seen as partial.
Malawi, he said, can serve as encouragement for Guyana. Malawi, a country in the African continent, is half the size of Guyana, with a population of about 20 million. It has one of the highest levels of population density, is one of the least developed states in the world, and is heavily dependent on agriculture for export and domestic consumption.
Despite these adverse realities, Malawi's AML/CFT regime is world class. In fact, its Financial Intelligence Unit (FIU) is so advanced, Boyce explained, it has been allowed to join the Egmont Group of Financial Intelligence Units; a grouping of the world's most advanced, accomplished FIUs, which "meet regularly to find ways to promote the development of FIUs and to cooperate, especially in the areas of information exchange, training and the sharing of expertise."
Malawi's FIU was set up in 2007 and given autonomy, including financial autonomy. It is also free to hire its own staff and its autonomy is guarded by legislation. The Director of Malawi's FIU is appointed by the country's president to serve a fixed term, but only after he/she is first confirmed by a committee comprised of members of the parliament. There is therefore, Boyce noted, no scope for political interference
Malawi also sports a national AML committee and a national counter terrorism committee. Both are mechanisms that FATF have been trying to encourage across the world. Boyce noted that the agreements which ushered into existence this system were arrived at in an opposition-controlled parliament.
He reiterated that he did not choose Malawi so that Guyana can attempt to follow in its footsteps, but to provide an illustration that progress is possible despite the circumstances. He added that in attempting to achieve its own regime, Guyana should seek to satisfy, and even surpass what is required of it by CFATF. Guyana, he said, should aim for "supercompliance."
How FATF and CFATF ensure compliance
In light of misunderstandings that CFATF or FATF will be directly implying sanctions pursuant to the call for countermeasures by the regional body, Boyce informed his audience that neither CFATF nor FATF has enforcement mechanisms through which it can legally force compliance with their established standards.
Instead, he explained, the fact that territories opt to adhere to their recommendations and remain compliant gives the regulatory bodies legitimacy. They are, therefore, able to take several measures against territories found to be insufficiently complaint with their standards.
Such measures include Adverse Public Statements. Such statements, Boyce said, have the potential to shame a territory into compliance. This can translate into financial losses as such statements can dissuade investors from directing their resources at a territory.
Furthermore, territories are placed on a list where its peers are called upon to take measures against them. Boyce noted that while counter-measures can be taken pursuant to calls by CFATF of FATF, their member countries are free to act independently to protect themselves. Either way, territories found to be non-compliant are effectively pressured by their peers through the use of varying countermeasures until they are found to be sufficiently compliant. Currently, only CFATF's 34 regional members have been called on to take countermeasures against Guyana and this includes Trinidad and other regional neighbours.
If FATF makes a similar statement, states including the US may take countermeasures, although, the US is free to take action without FATF's encouragement.
Technical and compliance and effectiveness
Boyce also said that as of this year, FATF will be changing its methodology, making having effective provisions just as important as technical compliance.
There are four levels of technical compliance. Territories can be found Compliant, Largely Compliant, Partially Compliant or Non-Compliant. He said that Guyana usually falls between Partially and Non-Compliant. It is this standing, he explained, which earned the country two adverse public statements by CFATF. The first was earned after Guyana missed its second deadline last November and the second was earned last Thursday.
Technical compliance is only half the work under the new FATF methodology. Boyce said that the new methodology makes satisfactory effectiveness levels equally important. Under this methodology, territories will be graded as having a High, Substantial, Moderate or Low levels of effectiveness.
Guyana is not slated to be evaluated under this new system for another few years, but Boyce says the country is already on bad footing, having been found Non-Complaint with technical requirements prescribed under the old methodology. To achieve satisfactory levels of effectiveness, Boyce explained, states will have to ensure their regimes are bolstered by the necessary legal, judicial and executive support. The system, among other things, will also require the use of intelligence in investigations.
Around the Web