Caribbean Development Bank (CDB) President Dr William Warren Smith said the bank views agriculture as vital to the prosperity of the region and countries like Guyana with large rural populations can develop a modern agriculture sector, creating jobs and reducing their food import bill.
"In the CDB, we like to talk about agriculture in the context of rural development. In other words, we feel especially in countries like Guyana, the larger countries of the Caribbean, large segments of our populations live in the rural areas so apart from ensuring that you don't spend a chunk of your foreign exchange importing food,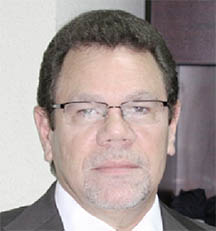 the fact that you can develop a modern agriculture sector in the rural areas, what you are also doing is contributing to the wealth and development of people who live in those rural areas so that it is part and parcel of the development puzzle," Dr Smith said, during an interview on NCN Channel 11 last week Monday. He was joined by Finance Minister Dr Ashni Singh, who was then outgoing Chairman of the bank's Board of Governors, a report from the Government Informa-tion Agency (GINA) said.
Dr Smith said over the years some countries have shifted their focus from agriculture to tourism and importing food to fill their needs, causing the agriculture sector to decline. The bank has also recognised that many youth, who comprise the bulk of the Region's populations, are no longer interested in back-breaking labour which characterised the industry previously. "They want to utilise that skill that they're learning in school with their science courses and what have you, to do a more modern agriculture," he said.
In keeping with its efforts to increase food security, the CDB is now focusing on "protected agriculture," which entails the use of green houses to grow specific crops which have a good domestic market and the possibility of being linked to the tourist industry with its emphasis on quality.
The bank is also concentrating on irrigation, and in countries such as Jamaica, Dr Smith said, this has increased productivity in agriculture.
Guyana is also pushing to enhance the regional capacity for food security through agriculture, Dr Singh said. According to him, the large scale investments such as the Santa Fe mega farm in Region Nine will result in these goals being achieved, through economies of scale. Guyana is seeking to ensure regional standards for food quality and easier transportation and accessibility to Caribbean markets, Dr Singh said, noting that all these efforts aim at reducing the Caribbean's dependence on food imports from beyond the region.
Around the Web