Intrigued by the uniqueness of the Caribbean and with thoughts of writing a book at the back of his mind, cricket journalist Rahul Bhattacharya left his home in India in 2007 to come to Guyana to explore life in this part of the world. His experiences here greatly influenced his first novel The Sly Company of People Who Care, which has won the young author international acclaim.
The novel, which was published in 2011, was awarded the Hindu Prize for Best Fiction in India, the 2012 Royal Society of Literature Ondaatje Prize and was also a Kirkus Fiction Book of the year in the USA. It was also shortlisted for the Man Asian Literary Prize, the Commonwealth Book Prize and the Economist Crossword Book Award.
Yet seven years after the visit that inspired the work, Bhattacharya still has difficulty explaining his connection to this country. "Nothing called me like Guyana," he told Stabroek News during his recent trip here. While the country's topography, musical language, social characteristics and day to day way of life appealed to him, he says there is an underlying connection that he still cannot put his finger on.
As a cricket writer he had travelled extensively but the uniqueness of the Caribbean appealed to him for several reasons. Chief among them was the great resonance he felt about leaving a distant home and arriving at a new place thereby encountering the world afresh. This, he noted, is the story of many of the inhabitants of this region albeit under completely different circumstances.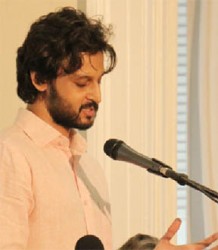 "For me having come all the way from India everything was fascinating and was filled with a sense of wonder and curiosity," Bhattacharya said, explaining that this is ideal for any writer. According to him, while he had come to Guyana with the hope of writing of his experiences, he was uncertain if he would have been able to do this or even what form his writing would take. "Writing is the way to understand the world. It is a way to process your curiosities," he said.
What Bhattacharya produced was an unconventional novel which explores the ideas of encounters, especially that of the narrator with Guyana. "To me one of the most fundamental ideas of Caribbean society is of groups and communities who were displaced from different parts of the world having to encounter one another," he said. According to him, he tried to capture the energies and frictions that come out of these encounters while capturing "slices of daily life".
The book, he says, is not an "easily sellable book" nor is it easy to read given the dialect and language used. He said that he had deliberately done this because he wanted to be true to the world he was writing about. "It was written for Guyanese…since only Guyanese would understand the range of references and inflections in the book," he said.
While his work has been critically acclaimed, Bhattacharya has also drawn the ire of many readers and critics. Chief among the criticisms is the manner in which he has portrayed women in the novel. Questioned about this, Bhattacharya said he was merely showing doing what an artist does, which is to showcase the world.   "What I was trying to do is highlight what I had encountered. I feel injustices of any kind ought to be tackled by writers. The novel is not a didactic form," he said noting that readers tend to bring their anxieties and prejudices when reading.
Bhattacharya, however, stressed that some of the issues he raised are not unique to Guyana. "I come from India where this is often appalling treatment of women. It is a truth of the world. Racism is a truth of the world. Misogyny is a truth of the world. Violence is a truth of the world. And there are also very much truths in Guyana and I feel writers ought to tackle it in whatever way they do. And the way the novel does it to try to dramatize it," he added. He also explained that his work was not intended to be satirical. Instead, he prefers to describe his novel as one which contains humour and comedy, which are traits of the Guyanese people.
Asked if there was anything he would change about the book, he admitted that if he had known beforehand the confusion that would have erupted, he may have possibly sought to make a greater distinction between the narrator and author. He said too that he may have used more fictional devices to counter the notion that the novel read like a memoir. But he recognizes that thinking along these lines is problematic.
"Novels are very odd beasts. And a good novel is its own thing. And you can't take away something and think if you change the formula it would be better or worse. There's nothing like that. You could end up elevating it. You could end up collapsing it. There's no telling….," he explained.
Bhattacharya is currently co-editing a cricket magazine which should be published in the next few months. One day he hopes to write a novel about India but he realizes that this is a huge undertaking which requires much preparation. "If one is writing something which takes in the enormous breadth of Indian experience and Indian diversity, one can feel slightly unequal to the task because we exist in hundreds of languages, dozens of religions, in many, many layers of class and caste, which unfortunately is still a part of the Indian experience, one can feel slightly unequal to the task," he explained.
However, it does seem very unlikely that he will write another book directly about Guyana, although he believes that what he writes about in the future may be connected to Guyana in some way or another.
Around the Web