Three more persons testified yesterday in the preliminary inquiry (PI) into the murder charge against Sylvester Bristol, accused of murdering female taxi driver Savitri Gangadeen Parma in February.
In total, 11 witnesses have so far testified at the PI, which is being conducted before Chief Magistrate Priya Sewnarine-Beharry in Georgetown.
From the prisoners' dock yesterday, Bristol listened to the evidence of three persons: Corporal Oswin Semple, taxi driver Quacy Major and Damien Dias, one of Parma's customers.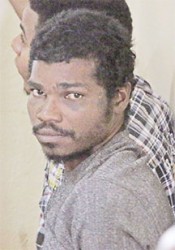 Bristol had declined to cross-examine the witnesses but raised objections to evidence supplied by Semple. The man also made several allegations.
On Tuesday, four officers across various fields testified on their participation in the investigation of the woman's murder.
Police Constable Mark Gaspar, attached to the Criminal Investigation Department (CID) headquarters, Constable Ze Bartholomew, attached to the Eve Leary Police Outpost, Timehri-stationed Police Constable Shawn Beharry, and police photographer Maxwell Grant offered evidence.
Bristol declined to cross-examine all but one of the officers; he elected to cross-examine Con-stable Bartholomew and directed four questions at the officer.
Hours after Parma went missing, her body was found around 6am on February 16. According to reports, the driver had informed her husband that she would be making a drop to Red Loam with an employee of a sand pit owner in the area. Parma's car was discovered with her sleeping eight-year-old son in the backseat shortly after she had gone missing.
A subsequent post-mortem examination (PME) revealed that she had died from strangulation and had also suffered a broken neck.
The PI will continue today.
Around the Web