The Ministry of Culture, Youth and Sport on Wednesday handed over a series of Guyana Classics books, along with others to several libraries, the Government Information Agency said.
The handing over ceremony which was held at the Ministry's boardroom, Main Street, Georgetown saw collections of approximately 66 books being handed over to the National Library, as well as the repositories at the University of Guyana, Caricom, the Cyril Potter College of Education and Parliament.
Minister of Culture, Dr. Frank Anthony noted that the collection included 38 of the Guyana Classics, seven volumes of the parliamentary speeches of Dr. Cheddi Jagan dating from 1947-1987 and two volumes each of Linden Forbes Sampson Burnham and Janet Jagan.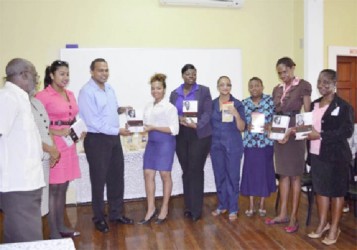 Anthony stated that the Ministry is hoping to complete the third volume of the late President Burnham's speeches, as well as to begin work on the first volume of late President Desmond Hoyte's speeches during the course of the year.
The Minister disclosed that the Ministry has begun work on a series of dictionaries of the languages of the country's indigenous people.
He added that of the nine Amerindian languages, seven dictionaries have been published in the past. Two of those have been republished, updated and appended to the collection.
Anthony urged that the books be made accessible to the widest possible audience.
Director of Culture, Dr. James Rose who was also present at the ceremony said that the Guyana Classics has broken all records in terms of the production period and the number of books produced.
Around the Web