Shock gripped Sisters Village on the East Bank of Berbice yesterday when the dead bodies of Latoya Adams, 14, and Kellon Sam, 23, were found behind their respective homes, in an apparent murder/suicide.
Adams was found sprawled facing upward under a mango tree behind her house with a knife stuck in her chest. Her neck was also slashed. Sam was discovered hanging from a clothes line attached to a mango tree aback his house.
The police have launched an investigation into what is being classified as a murder/suicide.
The heavy rain was no match for the crying and wailing of relatives who tried to make sense of the gruesome scene.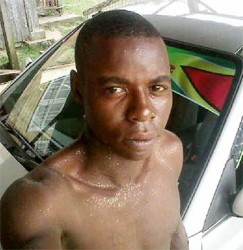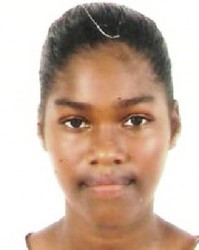 Sam, a former employee of Caricom Cement Company Incorporated, who was recently laid off from his job was discovered sometime around 6:00hrs. A neighbour whose name was given as 'Pudu' was standing on her veranda when she noticed the silhouette of a body hanging from her neighbour's tree and alerted the family. "I come home midnight from work and went straight to bed. In the morning I hear the neighbour calling, she said 'look someone hang themself in yall back yard'. I walk going then I see the person and holler and say is Kellon and my old man come out and everybody run go at the back," recalled Sam's older brother, Colville Sam.
He said he had last spoken to his brother on the morning of Wednesday, June 4th, and noticed that he was extremely upset about something. "He did vex bout something, cause I hear he going in the pot and I holler and tell him left some food for me and he start behaving with haste, so I ask 'what wrong with you boy?' Because he don't normally behave like that".
Sam explained that when he questioned his brother further, he said nothing, simply quieted down and left. So he gave no more thought to his brother's unusual behaviour and left for work. That was the last interaction he had with the apparently troubled young man. When asked if his brother had exhibited any suicidal tendencies, Sam said he had appeared stressed lately.
Meanwhile, Sam's mother Jacqueline Sam was inconsolable after seeing her son hanging from the tree. She related to Stabroek News that when she came home from work on Wednesday evening she was suffering from a headache and wanted to retire early to bed. However, the odd behaviour of her second son caused her to pause and chat with him. She explained that since being laid off some three weeks ago from the cement company where he had worked for the past four years Sam appeared to be out of kilter. "He use to work at the cement company and they knock he off, but ain't knock he off for a reason, and like he tek on this thing".
"I ask him, 'Kellon what happen?' Cause he come in and going out steady" the weeping mother said, adding that she told her son "you gone get yourself in problem". But he did not heed her warning; told her not to worry, took a bath and left.
His failure to return home later that night did not raise an alarm among his family, because he had the tendency of sleeping out of the house. It was only until the following day, when she was looking for the clothes line to hang the articles of clothing she had washed, she realize something was amiss with her son. "I wake up, looking for the line and I start quarrel.
When I ask one of my sons, they say Kellon gone with it. Then same time the neighbour call and say me son hang heself in the backyard".
The mother of five sons, in between sobs, said her son was a quiet person who did not talk much or speak out when something was bothering him. So she could not be sure if it was the stress of being dismissed from his job, or relationship problems or a combination of both that led him to commit the act.
"He ain't say nothing. My son is an easy child. When he get he problem he don't talk. He does keep it in". She admitted that Sam was in a 'relationship' with Adams but could not say with any certainty if the relationship had hit a rocky patch. "I don't know if they get any problems cause he does go over by another girl, so me ain't know if she [Adams] quarrel up with he or not". She expressed sorrow for the fact that her son was an introvert. "You see if he use to talk what on his mind I could have vibe with him".
Dazed
Over at the Adams residence, 56 year old Robert Adams was trying to make sense of the tragedy. In a dazed-like state he recalled that his daughter was late in returning home on Wednesday evening, having left to go to an internet café to do research for a school project. Subsequently, he and his wife Maureen searched for her in the village but with no luck. They eventually gave up the search because Maureen, who works as a security guard, had to work the night shift and was late. They admitted to not being overly worried, because Adams had been rebellious of recent, staying out late past her curfew and acting like a typical 'rude' teenager.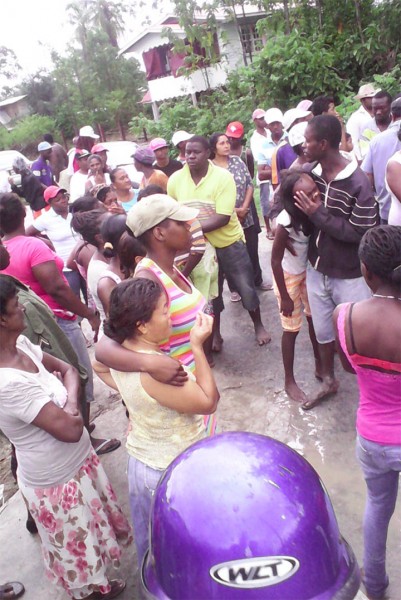 According to the distraught man, he and his wife had rescued Adams from an abusive home at the age of six. He related that Adams was physically abused by a relative and being a distant relative of his wife, they decided to adopt her and raise her as their child. The couple had no children of their own. "She was the jewel of the family; always talkative and very friendly. She was very outgoing and active in her church", the grieving father reminisced.
He did however speculate that it was her vivaciousness and tendency to be the 'life of any party' that got her killed. "You know this generation, them boys too jealousful and possessive; and them girls hot for them age. So it's a bad combination". When questioned as to why a teenaged Adams was allowed to be in a relationship with someone nine years her senior, he said "since she develop [physically] and start going town school, she tell she self she more smart and worldly than us old people. So we couldn't stop her from doing what she wanted".
The parents did say that she attempted suicide, overdosing on pills/tablets late last year, and was hospitalized for a week at the New Amsterdam Hospital after experiencing difficulties in her relationship with the now deceased Sam.
Region 6 Education Officer, Volika Jaikishun along with a teacher from the Berbice Educational Institute (BEI) visited the home of Adams earlier yesterday to offer their condolences to the family.
Adams was a 3rd form student of the BEI. She leaves to mourn her two adoptive parents.
Sam, who was unemployed at the time of his death, attended the Friends Primary School, but did not attend any secondary school. He leaves to mourn his parents and four brothers.
Around the Web