PAHO/WHO Country Representative Dr William Adu-Krow has suggested tobacco control interventions should be integrated into Guyana's development programmes and related investment initiatives.
In his message to mark World No Tobacco Day, observed last Saturday, Dr Adu-Krow pointed out that multi-sectoral action is essential in Guyana and a national coordination mechanism and the integration of tobacco control programmes in health-care system are key in the control of tobacco.
While Guyana for a number of years has been talking about increasing the tax levied on the importation of cigarettes, there has been no move in that direction. In keeping with the requirements of the World Health Organisation (WHO) Framework Convention on Tobacco Control (FCTC), the country has made some public spaces no smoke free zones but apart from this there has been little else being done to control tobacco use.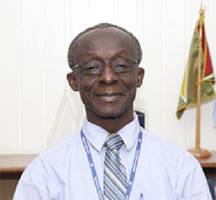 Earlier this year, Reuters reported that trebling tobacco taxes globally would cut smoking by a third and prevent 200 million premature deaths from lung cancer and other diseases this century.
The report referred to a review in the New England Journal of Medicine, which said scientists from the charity Cancer Research UK (CRUK) indicated that hiking taxes by a large amount per cigarette would encourage people to quit smoking altogether rather than switch to cheaper brands, and help stop young people from taking up the habit.
As well as causing lung cancer, which is often fatal, smoking is the largest cause of premature death from chronic conditions, like heart disease, stroke and high blood pressure.
The WHO has said that tobacco kills around 6 million people a year and that toll is expected to rise above 8 million a year by 2030, if nothing is done to curb smoking rates.
During his years as Minister of Health, Dr Leslie Ramsammy had spoken about controlling the use of tobacco and had one time suggested that taxes should be raised on cigarettes to curb their widespread use and that regional governments needed to remove protective measures that are currently in place aiding tobacco use.
He had at one time referred to tobacco as the only "legal genocide" the world has have ever had and he said that evidence exists about the devastating impact tobacco has and continues to have, "yet we still have to convince people that the substance is a killer."
In 2010 it was reported that the operations of the Demerara Tobacco Company (Demtoco) in Guyana in the previous years netted government revenues totaling more than $2.7 billion. In a year when more than half a billion dollars were lost primarily due to smuggling, then Managing Director Chandradat Chintamani reported that Demtoco nonetheless realised an after tax profit of $932,724,000.
Around the Web