By Desilon Daniels
A strong call for the provision of key documents prior to hearings for the ongoing Commission of Inquiry (CoI) into the death of Walter Rodney was made yesterday following the almost non-existent paper trail.
Canadian lawyer Selwyn Pieters, who is looking into the interest of Guyana Trades Union Congress's (GTUC) before the commission, suggested the requesting of files from the army and that these documents should be made available to all lawyers days before they are to be used. He also pointed out that witnesses' statements are also not being handed over in a timely fashion.
Pieters noted that former army chief Major General (retired) Norman Mc Lean, who testified yesterday, could not possibly answer all questions related to the matter 34 years later. "If there are records that exist," Pieters said, "then let them be produced."
These requests were made in the final hour of yesterday's proceedings, following McLean's testimony.
In response to his suggestion, Commissioner Jacqueline Samuels-Brown informed those gathered that a request had already been lodged with the relevant authorities. According to Samuels-Brown, there have been assurances that requested files are being searched for while certain documents have already been presented.
"Efforts have been made and are being made," she emphasised.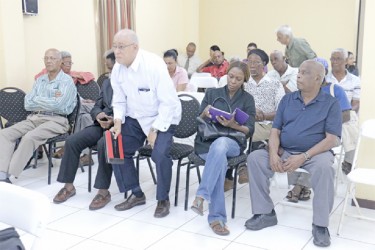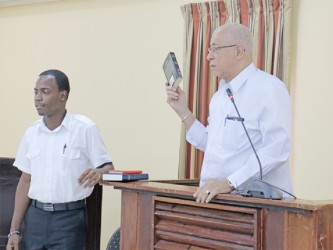 According to Pieters, the commission is an international one of sorts comprising of lawyers and commissioners from a number of countries. Therefore, he said, every effort has to be made to have each and every single document before the commission in an appropriate time.
"You don't want to find yourself in a position 20 years later where someone else is looking into your inquiry itself and asking questions which you may have to ask with respect to previous investigations," he pointed out.
He further stated that any document which would have been offered during yesterday's proceedings should have already been there. He suggested the pressuring of the authorities to have the documents before the commission by way of subpoenas.
Commission Chairman Sir Richard Cheltenham-who said he saw no reasons for the commission to be lectured by Pieters-opined that a subpoena should be a resort only if voluntary participation isn't forthright. However, Pieters reiterated that the inquiry is a serious matter and therefore required serious action. He noted that since documents are not present, a subpoena should be appropriate.
At his fervent demands, the commission's legal counsel Latchmi Rahamat revealed that so far the commission has been receiving the full cooperation of the GDF. "I just wish to say for the record that the Guyana Defence Force has been cooperating with the secretariat; they have been providing us with documents," she said. "We are liaising with one Mr. Patrick West who is currently serviced in the army. It would be inaccurate to say that we have not been receiving cooperation from the Guyana Defence Force," she added.
In full agreement with Pieters, attorney and Member of Parliament (MP) Basil Williams noted that McLean had been brought to the day's session by a subpoena. He too believed that the necessary documents should be subpoenaed.
"I don't know what cooperation there is and no documents are forthcoming from the GDF," he said. "So I don't think it lies in the mouth of counsel or the commission to say that they [the GDF] are cooperating. Cooperating to produce what? Nothing?"
Continuing his argument, Pieters said that he would be ready to excuse himself from the commission if the relevant documents did not surface.
"Mr. Chairman, we are trying to get to the truth of this matter and every single document that exists should be here; that is what my point is. I am certainly prepared to excuse myself from the commission if that does not happen because I am not prepared to be part of a tribunal where 20 years later my name is on the record and it's questioned why we did not take the due diligence to get those documents."
He continued, "This is totally unacceptable. If those files were here, it would have shown what steps were taken to deal with the Gregory Smith desertion; none of those files are here."
Commissioner Seenath Jairam pointed out that Pieters had been in a number of international commissions and perhaps had different experiences and was therefore not being fair to the commission. "You practice in a very sophisticated jurisdiction and I can tell you we in the Caribbean do not move in the same attitude that you're accustomed to."
Due to McLean's unavailability to return to continue his testimony under cross-examination today, Robert Gates was named as a replacement witness and when questioned the commission's lawyer Glen Hanoman confirmed that the witness' statement had not yet been shared with the lawyers. The chairman remonstrated that he had indicated that statements should always be given to the lawyers once available. "Get it out to all parties, you have a secretariat," he said angrily.
At this point Hanoman said that there have been witnesses who expressed fear of sharing their statements long in advance for security reasons.
The chairman retorted that when such an issue is faced then he should be informed, which prompted Hanoman to disclose that up to Wednesday a witness' life was threatened.
"I think you are falling down because you kept this to yourself," Sir Richard said.
Around the Web