A seasoned scam artist, charged with defrauding nine persons of nearly $40 million in just over a year, yesterday decided to turn over a new leaf when he pleaded guilty to nine counts of fraud, earning himself a total of 19 years.
However, Gopaul Tiwari, 46, of 73 Second Street, Craig Village, East Bank Demerara, will serve only three years as his sentences are set to run concurrently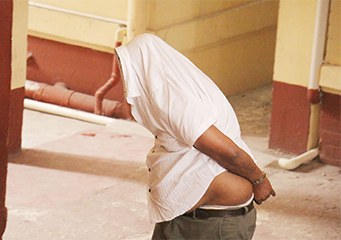 The reading of the charges took nearly 15 minutes. Tiwari initially faced eight charges but later in the afternoon, he was slapped with another. Out of the $39,640,000 he was charged with obtaining, he admitted to only $3,365,000 of it.
The first charge alleged that Tiwari, on May 31 defrauded Christopher Daniels of $200,000 by falsely pretending that he was in a position to sell a Toyota Land Cruiser LX 2010, despite knowing that to be false.
After pleading guilty to his first charge, the man stated that he did not intend to waste the court's time. He additionally said that he only obtained $170,000 instead of $200,000.
According to his second charge, he defrauded Rovell Chilcott of $4.6M sometime between April 25 and May 15, by pretending that he was in a position to sell an excavator. The actual figure received, he said, was only $725,000.
His charges go on to state, between February 1 and February 20, with intent to defraud, he obtained $7M from Ryan Adolphus. The money was obtained to purchase a parcel of land at Eccles Industrial Site. However, the man admitted to obtaining $925,000 instead of $7M.
He was further charged with obtaining from Basil Bhagwandin, on March 7, the sum of $640,000 by falsely pretending that he was in a possession to acquire a car. This sum, Tiwari said, was correct.
His fifth charge alleged that on April 4, while being entrusted with US$2,000, the equivalent of GY$400,000, he obtained the sum from Richard Austin to buy windows and building materials but instead converted the money to his own use. This figure was also correct.
Tiwari pleaded guilty but the charge was reread when Austin indicated his presence.
According to Tiwari, Austin had returned to Guyana about a week ago but did not have the money to pay off the $1.6M balance. He instead asked for a refund but Tiwari explained that he had refused.
He added that he had bought the windows but that he had not given the windows over the Austin. In his defence, he said that Austin had told him that he did not have space available to hold the windows.
Tiwari's sixth charge was then read which alleged that he, between May 12 and the following date, obtained $100,000 from Jagnauth Ramsaran while being solely entrusted with the money to purchase 50 used tyres. According to the charge, the sum was converted to Tiwari's own use. The man did not dispute the figure.
His seventh charge stated that between May 21 and May 23, with intent to defraud, Tiwari obtained $400,000 from Maureen Gomes to acquire a bus for her and failed to do so.
According to the penultimate charge, Tiwari obtained $1.3M from Excel Prescott between January, 2013, and April of the same year for the purchase of a house lot in Eccles. However, the accused said that he had gotten only $150,000.
His final charge, read in the afternoon session, alleged between January 1, 2013 and April 30, 2013, with intent to defraud, he obtained the sum of $2.5M from Oswin Adolphus for the purchase of two house lots at Eccles and a Bedford truck.
The actual received sum, he said, was $255,000 and not $2.5M.
Attorney-at-law Paul Fung-A-Fat, who represented the fraudster, said that his client was a "big businessman" who was tasked with caring for his wife, three children, ailing mother, and cancerous brother.
Fung-A-Fat opined that, without Tiwari's care, the man's mother would surely pass away.
He further stated that Tiwari had grown up a "lonely child in a depressed area".
The lawyer pointed out that his client had admitted immediately to his guilt and had "thrown himself at the court's mercy". Pointing to Tiwari's face, Fung-A-Fat said, "You can see from his face how sad and depressed he is, Your Worship." He continued, "He is so repentant."
In conclusion, Fung-A-Fat said that the man resided in Craig, East Bank Demerara and would like to "return shortly".
When questioned about any previous convictions, Tiwari said that he had never had any stints in prison but had been charged for similar matters. However, he said, he was ready "to turn over a new leaf."
In March 2009, he appeared Acting Chief Magistrate Melissa Robertson faced with two counts of obtaining money by false pretence. Tiwari had reportedly pretended that he was in the position to get two men American visas and jobs when they got to the US and had defrauded them of $106,000 each.
The matter was settled by Tiwari compensating each man $50,000 and paying a $10,000 court cost. He was also placed on a two-year bond to keep the peace.
However, in October of the very year Tiwari made another appearance, once more before Robertson, charged with obtaining $480,000 from a woman under the pretext that he could import a car for her.
The court had learnt on that occasion that Tiwari had also defrauded the woman's brother in a similar transaction.
In yesterday's proceedings, Tiwari told the chief magistrate that the victims had been compensated in all of his previous cases.
This time around, Tiwari was sentenced to two years imprisonment on eight of his charges with a three-year sentence for one, racking up 19 years in total.
But he will spend no more than three years since the sentences will be served concurrently.
Around the Web