Veteran broadcaster Roger Moore passed away on Thursday in London after prolonged illness.
He was 56 years old.
"It is with great sadness that I must announce that after a long and protracted illness, my brother, Roger Eamonn Floyd Moore has passed away… He died peacefully at home in London, England surrounded by his family and visited by his friends," his brother Edward Moore said in a statement yesterday.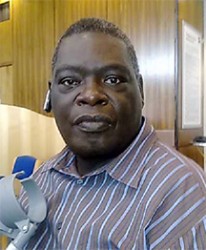 Moore was born in England but migrated to Guyana with his family as a teen. However, he referred to Guyana as home as he spent most of his adult life here. He returned to his country of birth in 2005 for medical checkups and was advised by his physicians to remain in the country for treatment as he was diagnosed with a series of illnesses, including type 2 diabetes.
The former host of the 'Come Home to Roger' television show, which was later named 'At Home with Roger,' worked from 1982 to 1995 at the then Guyana Broadcasting Corporation (GBC). "He read the news, hosted interviews, produced documentaries, conducted live outside broadcasts, talk shows and produced and anchored GBC's Action Line," his brother said.
"Roger is most famous in Guyana for his television talk show, 'Come Home to Roger' which was considered a voice of the disenfranchised Guyanese," he added. The show and its successor were both broadcast on NBTV and later HBTV Channel 9.
Tributes poured in yesterday from friends and colleagues of the former Queen's College (QC) scholar.
"I am very saddened by his early demise. He was relatively young… We go back to high school days at QC," broadcaster Enrico Woolford said of his longtime friend.
"We were both granted scholarships to study in the US… He was trained as an agriculturist but loved broadcasting… Phyllis Jackson (former GBC programme director), said his voice was very rich and he began his career in broadcasting … He made a quite a contribution to the broadcasting industry," he also told Stabroek News.
Woolford pointed out that Moore was very passionate about race related issues, having experiencing firsthand the support his homeland gave to Zimbabwe, when it was Rhodesia and South Africa in its struggle with apartheid. "Roger was very conscious about race… and coming into the Guyana context he was very passionate, when anyone attempted to be superior, to voice his concern. He felt whoever you are you should not use majority race to oppress, suppress or repress … and if he made anyone feel uncomfortable it was because of this belief," he asserted.
Civil activist and freelance journalist Mark Benschop, another friend of Moore who kept in constant contact with him right up to his death, described him as a compassionate soul. "Gosh! Roger was a very warm and friendly person. He was warm and always giving. He would give you his last $100 if he knew it was something you needed," he fondly recalled.
"I recall once we were hanging out in Kitty and every young lady that passed he would compliment. [He] made them all smile. He was warm hearted and very loving to people regardless of ethnicity, that is the Roger I would remember," Benschop reminisced.
He said Moore was a very dedicated and principled worker and when his services were abruptly terminated by the PPP/C administration, because he was vocal of the injustices, he became heartbroken. His frustration led him to begin his television show on a private television network and though this medium he began taking on political issues after government advertisements were pulled from private media houses.
"He died fighting against a system that he thought was unfair… He never compromised on his principles. He believed in what he was doing and that was what it was and to his death he stuck to this," he stated.
A friend for over three decades, TV show host Basil Bradshaw also noted Moore's relentless stance on racism and called him a "no-nonsense man" who was a voice of the people.
"'At Home with Roger' was one of the better talk shows. A lot of people tuned in and he kept contact with the public by way of [phone] calls… Last week, he wanted to call through to speak with the people. He always asked me to say to 'hi' to his fans and that he was not so well but coming around," Bradshaw lamented. Moore's friends described him as a very jovial person with a sense of humour who loved people and interacting with them.
He was married but subsequently divorced and had one son.
Around the Web