New airline Dynamic Airlines is preparing to commence operations here later month and the company's Vice President Tom Johnson says it is here for the "long haul" with the future of the country in mind.
"We are here for the long haul… we saw the future of this country and we want to be a part of it. We have the future of this country in mind.
We will give it 1,000 and 100 percent to make it happen and we will expand expand and expand," Johnson told a reception launch, held at Duke Lodge in Georgetown on Friday evening.
Johnson also stressed that the airline is not a charter service and has done much research on this destination. Given the future possibilities and profitability, it was the company's intention to begin operations with the goal of being the face of the airline industry in the country.
He also distanced his company from flopped charter service EZjet.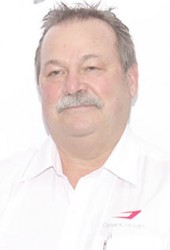 There were rumours peddled in some sections of the media that the airline was linked to EZjet and officials of the company were concerned as they said they knew that Guyanese were still healing from the wounds inflicted by that charter. "We are not a charter. There is no third man here. We own many planes so passengers will never be left stranded… we have nothing to hide and have submitted all documentation… maybe over a thousand documents and the US$200,000 bond re-quired," Johnson ex-plained.
President Donald Ramotar, who attended the launch, in brief remarks welcomed the airline and the future developments he sees it bringing to Guyana. "This is a very important development for us," he said, adding, "We want the tourism dollar to remain here also… I think with this new venture it sets things on stream."
Roraima Airways has partnered with the company and its Director Gerry Gouveia fondly termed the union the "Tom and Gerry partnership."
Gouveia said he was confident that the Guyana/US carrier relationship would be the breakthrough Guyanese have waited for. "We have never partnered the way we are parting with this airline… this is a dynamic night," he asserted. "There have been many attempts by airlines to start and stop here in Guyana…but I want to say to you that this one is not a tour operator…this is Dynamic Airways of the US and Roraima Airways out of Guyana, putting our resources on the line to fill the gap and fill the space that was vacated by our national airline many years ago," he stressed.
Gouveia informed that the airline would be promoting Guyana in a way like never before. He said that on the flights both in and out, travellers will experience local cuisine, music and service from staffers, among other things.
He also informed that as part of its expansion plans, the airline will team up with the tourism and agriculture sectors as they work to market destination Guyana and export local foods, respectively. "All of the other carriers have come here and bled off of our friends and families… we are going to put them on this 747 and open up the Caribbean to Guyana," he stated.
Gouveia pointed out that while there will be two dedicated Boeing 767 planes serving the Guyana to New York route—with one always overnighting here as it prepares for its morning trip—there are several others that are owned by the airline that will fall in line as backups are needed.
From the 26th of June, the airline will begin flying the direct non-stop GEO-JFK route four times weekly at a startup fare of an all tax inclusive US$565 for return flights.
However passengers coming out of JFK will pay US$499 return.
The airline said it has taken into consideration that Guyanese normally travel heavy and has an allowance for two checked bags at 55lbs s each and a carry on piece of 25lbs .
Roraima Airways also has plans to later use the bigger planes to serve other Caricom destinations and is looking first at Barbados and Trinidad.
Around the Web