Three more witnesses testified in the preliminary inquiry (PI) into the murder charge against Sylvester Bristol, the Yarrowkabra man accused of the murdering female taxi driver Savatri Gangadeen Parma at Dakara Creek, Linden/ Soesdyke Highway in February.Basdeo Mohammed Bashir, the former employer of Bristol, Robindranauth Latchaman, a watchman attached to the firm that Bristol worked for and Police Sergeant Moore, a rank attached to the Timehri Police Station, all offered evidence before Chief Magistrate Priya Sewnarine-Beharry.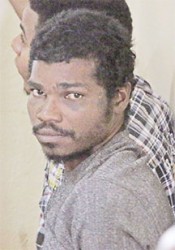 During the last session of the PI, Corporal Oswin Semple was among the witnesses who offered evidence.
Bristol had declined to cross-examine the witnesses but raised objections to evidence supplied by Semple. The man also made several allegations.
Hours after Parma went missing, her body was found around 6am on February 16. According to reports, the driver had informed her husband that she would be making a drop to Red Loam with an employee of a sand pit owner in the area. Parma's car was discovered with her sleeping eight-year-old son in the backseat shortly after she had gone missing. A subsequent post-mortem examination (PME) revealed that she had died from strangulation and had also suffered a broken neck.
The PI continues today at the Georgetown Magistrates' Courts, when three other witnesses are expected to testify.
Around the Web