The Blairmont Crematorium and Memorial Garden recently received three monetary donations valued Cdn$4,500 from Canada-based Guyanese to help realise the facility's construction plans.
According to a press release, Nowrang Persaud, leader of the crematorium project received two cheques of Cdn$1,500 each from Trevor Subryan, on behalf of his ATS Company and from Swami Bhajananda on behalf of the Pranav Mandir Cultural Centre. A group of Guyanese from Kitchener, Ontario also donated Cdn$1,500 to the crematorium. "These welcome gestures are in addition to other significant contributions from the abovementioned sources," the press release said.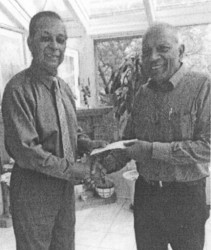 Currently, the management committee of the crematorium is pursuing the construction of a spacious car park to provide better accommodations for patrons and moreover to avoid blocking the access road to the Blairmont Estate which often occurs, especially when there are large funerals at the facility.
Around the Web