With the August deadline fast approaching the opening of the Georgetown Marriott may be delayed as there is still a lot of work to be done on the structure.
Stabroek News understands that it is the intention of the Shanghai Construction Group to have workers at the site seven days a week in an attempt to meet the deadline. A lot of work is needed on the parts of the hotel that will house the entertainment complex and casino.
So far little had been done other than the actual framework on its east and west sections.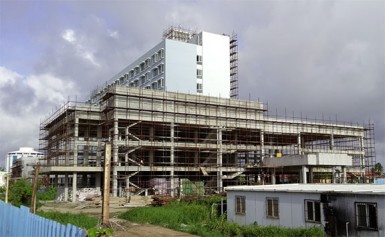 The ocean view side of the Marriott is bare apart from a section which was recently painted. When Stabroek News visited the site on Sunday only a handful of workers could be seen working on the eastern section.
On the western section, the main floor was still being used as storage for building materials.
The Marriott's five star rating means that attention must be paid to even the most minute detail and with just two months to complete construction the situation does not appear to be on track.
Observers have expressed concern that the fine details could not possibly be completed in eight weeks.
Even more troubling is that the work on the portion of the hotel that is designated as the entertainment complex, which is estimated to be a minimum of US$4 million, seems to be at a standstill.
The US$58 million controversial hotel project has been consistently criticized.
In a joint statement in May Atlantic Hotel Inc (AHI) and Republic Bank Ltd (RBL) revealed that the two private investors were Hong Kong businessmen Victor How Chung Chan and Xu Han, who were contributing US$8 million. RBL also announced the approval of the long-awaited US$27 million in debt financing.
AHI also announced that Roberto Grisi is the General Manager with his position becoming effective on June 1.
Around the Web