Co-leader of the Working People's Alliance (WPA), Dr. Rupert Roopnaraine is opting not to respond directly to claims that a plot was engineered to kill him in 1979.
Dr. Roopnaraine, who was completing his witness statement for the ongoing Commission of Inquiry into the death of Dr Walter Rodney, yesterday said that he didn't want to find himself commenting on testimony because he himself would be appearing before the commission.
However, asked whether he knew witness Robert Gates and whether he was aware of a plot to kill him that the convicted con man attested to last week, Roopnaraine said that all he is prepared to say at this point is that he did know the ex-policeman by that name and that "we (WPA) had good reason to believe after the Vreed-en-Hoop meeting that it was not a period of safety." That meeting, according to him, was held on September 4, 1979.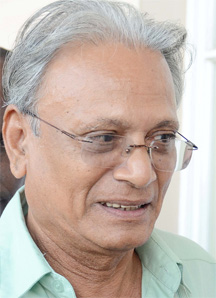 Roopnaraine added that he does not know exactly when he will be testifying but he anticipates that it will be during the next session, which will run from June 23 to July 2.
Last Friday, Gates who revealed that he is currently serving a 48 months jail sentence for obtaining money by false pretence, testified that after being threatened by a superior he was planted as an undercover agent in the WPA and was later promised a large sum of money and free passage out of Guyana if he facilitated the killing of Dr. Roopnaraine.
According to him, he was given instructions to let Roopnaraine fire a submachine gun which would contain over packed rounds. "I absconded. I did not carry out the instruction because Dr. Roopnaraine was a good man", he said.
The man testified that he had befriended Roopnaraine in 1979 and became inspired by the WPA to leave the force. At the time, Gates claimed he was a constable heading an Intelligence Unit within the Guyana Police Force.
He recalled that they had several conversations during which Dr. Roopnaraine revealed that he was in need of a bodyguard. He said that he was offered that position but only if he separated himself from the Guyana Police Force. He claimed that he tried to resign from the police force but was threatened with a charge of treason by then Crime Chief Cecil 'Skip' Roberts, who told him he would be deployed as an undercover agent in the WPA.
Gates said that part of his responsibilities was writing notes about the daily activities of Dr. Roopnaraine as well as finding informants. He also testified that on one occasion he was instructed to plant two sound activated devices in the inner part of Dr. Roopnaraine's car and at a strategic point in the WPA office located at the time in Tiger Bay. This was successfully done, he said, and according to the feedback he got, good intelligence was being gathered from the devices.
Numerous concerns have been expressed about the quality of testimony being presented, in so far as the names of persons being linked to activities without evidence being presented. Among the persons to have highlighted this situation is attorney Basil Williams, who is representing the PNC during the CoI.
The commission was set up to find out, among other things, the circumstances surrounding the death of Dr. Walter Rodney, a co-leader of the WPA. Now deceased Linden Forbes Burnham and his PNC, which was the party in government at the time, have long been implicated in the bomb blast death of Dr. Rodney.
Several witnesses who have testified in the COI thus far have pointed fingers at the PNC, saying that because of the evidence available state elements and by extension the government of the day had to have been involved in Dr. Rodney's death.
Around the Web