The Tourism and Hospitality Association of Guyana (THAG) on Friday presented 17 participants in the 'Marketing Techniques for Small Hotels' training workshop with certificates at the Cara Lodge Hotel.
President of THAG Kit Nascimento said as Guyana pushes to extend its tourism industry, hotel needs to be ready. "We need to be ready to provide the excellence of service tourists need; they expect to be pampered and spoilt. They expect first class service," Nascimento said.
He added that the week-long training is gearing the hotels and resorts to reach international standards.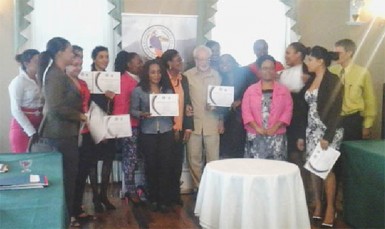 He also commended facilitator Cathy Hughes for a well done job. "You could not have had a better instructor," Nascimento said.
Nascimento said the course was open to 25 organisations participating but only 17 attended.
A representative from Splashmin's Resort also thanked Hughes, and expressed excitement at what she had learnt in the five-day period.
The training was part of a project executed by Caribbean Development Bank (CDB), which saw Hughes and Shamaine Davis of Roraima Duke Lodge participate in a five-day training course in St Lucia. The manual utilized in Guyana's five-day training programme was prepared there and the duo returned to Guyana to share the knowledge gained, according to Treina Butts Executive Director of THAG.
Around the Web