Despite admissions that he brutalised citizens while he was a member of the House of Israel and later hopscotched between political parties, Joseph Hamilton maintains that he is still fit to represent the people of Guyana in the National Assembly and he believes that Guyanese are compassionate to those who have "bared their soul before them and seek redemption."
Hamilton, who is now a Member of Parliament for the PPP/C, yesterday broke his silence since he testified before the Commis-sion of Inquiry (CoI) into the death of Walter Rodney and dismissed his critics as cowards if they fail to come forward to tell their story if it is different from his.
During cross-examination by PNCR attorney Basil Williams, Hamilton, a former priest in the House of Israel religious group, had denied that he made several allegations about PNC leaders because he was bitter. He also denied that he was a snitch and was only at the commission because the PPP/C was his master.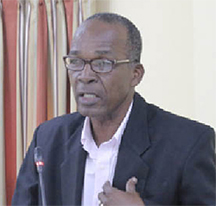 In testing Hamilton's loyalty in the political arena, Williams pointed out that he was in the House of Israel, the Good and Green Guyana (GGG), the PNCR and now the PPP/C parties.
Observers have also said that in light of Hamilton admitting to beating and terrorising persons while breaking up WPA meetings and his political track record, he ought not to remain in parliament.
Speaking to Stabroek News at his Ministry of Health office
yesterday, the Parliamentary Secretary said that he firmly believes that he can still represent the people in the National Assembly. He said that he has noted a recent comment that was made by a PNCR member, who he did not name. Hamilton said that the person or anyone in the leadership of the PNCR "is not in a position to lecture anyone," while adding that if that person wishes to lecture he should seek to lecture the party's leader, David Granger, whose name had come up during the testimony of former army chief Major General (retired) Norman McLean.
He stated that neither the person nor the PNCR "is responsible for Joe Hamilton being in the National Assembly. The party (PPP) and the government is responsible for that. Based on everything I know and have heard, they are comfortable with the position I took to speak to the Commission of Inquiry."
According to Hamilton, now that the weight is off his chest, he is feeling well. He repeated as he had stated at the end of his evidence that he is counting on the "compassionate nature of the Guyanese people" and he added that he suspects that they are compassionate to those who have "bared their soul before them and seek redemption. It is those who continue to hide via their cowardice and are fearful to put their soul and their heard out there. I think those are the ones who offend the Guyanese people". Hamilton has publicly apologised to all those whom he had hurt during his time in the House of Israel, a religious organisation that the PNC—then the governing party—had tasked with breaking up WPA meetings.
Hamilton said that he knew that in opening up there would be "burdens that I would have to fetch" but at the same time he is delighted as there are persons who are supportive and have respected his decision. "I have no regret at all that I went to the commission," he said, adding that his family was the only hurdle that he had to cross. His wife of 35 years and his adult sons, he noted, were behind him and respected his decision to speak about the period. "Once they said that they could live with the consequences… what other people say don't matter to me," he said.
He noted that any person who has a different version than his, should not criticise "in the press and around the road corners and the bar. Go to the Commission of Inquiry. Sit down and write your statement and go in the box and spend your days… show that you have b-a-l-l-s, not gaff." He challenged his critics to go before the commission, saying failing to do so if cowardly.
Hamilton also reiterated that the COI was an opportune moment for him to speak out and added that he had always told his friends that someday he would write about those times. He said that he has not set a timeline for when he would begin working on the book but he has already been advised about how he should approach this project.
Hamilton said that it is important to write a book about his experiences and the period leading up to 1980 when Dr. Walter Rodney was killed for a number of reasons. He said that over time he has heard people distorting things and speaking about things that they don't know about and he feels that the time is ripe for him to write to correct those distortions. "There is a lot of distortions out there about that period, the role of the House of Israel during that period. I have heard elements in the PNC trying to suggest that the House of Israel was a set of warrior men doing their own thing and I would say this, that anyone who believes this needs psychiatric evaluation," Hamilton said.
Hamilton added too that there is a need for all of the information out there to be connected and made whole. "I think that I am helping to make those connections," he said while noting that another reason to write his book is to give young people an opportunity to understand what occurred during that time through a person who participated.
Hamilton noted that the victims are the ones who would usually recount the experiences like those that he had endured, while it is unusual for persons who were "oppressors and suppressers" to speak, since they too are emotionally attached to the matters which had occurred during that time. "So I think it is important for young people to get an understanding, so that they, in their sojourn for the future, they will ensure that we don't ever get to that place. I think I have done my duty as a citizen and therefore I have no apprehensions, no regret that I went to the commission and the criticisms I anticipated," he added.
Asked if there was anything else he wanted to say, Hamilton said with a laugh "wait for the book."
Around the Web