A Kitty resident, struck down by a car while he was making his way to a shop last Saturday, is now hospitalised with a fractured back, broken rib and broken left foot.
Neil Blackman, 34, of 62 David Street, Kitty, told Stabroek News that he was on his way to the shop at approximately 7 pm when a Toyota Spacio ran him into a nearby trench, after the car was hit by a speeding truck that jumped the intersection, at David and Alexander streets.
He said he witnessed the collision of the two vehicles and ran when the car veered out of control toward him.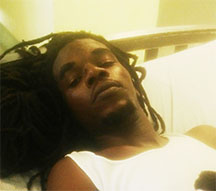 However, Blackman said in spite of his attempt to evade the vehicle, he was still hit.
Following the collision, Blackman recounted to this newspaper from his bed at the Georgetown Public Hospital, he instantly knew that he was badly injured. "My foot was numb," he said, adding that he is now in severe pain following surgery on the leg, and is unable to do anything for himself.
Nevertheless, Blackman said he thanks God that he lived to give an account and hopes for a full recovery.
Blackman said that he was offered a settlement by the driver of the car but he refused.
The drivers of the truck and the car, according to Blackman, are on station bail and the police are investigating the matter.
Around the Web