Paul Rose, accused of shooting a taxi driver in his buttocks, was yesterday remanded to prison after a court heard that he had climbed onto his roof to evade lawmen when they tried to arrest him.
Prosecutor Bharat Mangru argued that Rose, 22, who was charged with discharging a loaded firearm at Rawle Braithwaite with intent to maim, disfigure or cause him actual bodily harm, was a flight risk.
Chief Magistrate Priya Sewnarine-Beharry, who presided over Rose's arraignment at the Georgetown Magistrates' Courts, subsequently refused bail.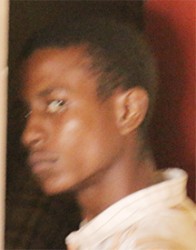 It is alleged that Rose, a father of two of 468 Kiskadee Drive, South Ruimveldt, committed the crime on April 23 at Georgetown. The man, however, denied the charge when it was read to him.
Mangru explained that the shooting stemmed from Rose seeing the mother of his child exiting the complainant's car.
Mangru said that Braithwaite, a taxi driver, transported Rose's common-law wife. The court heard that on April 22, the woman asked Braithwaite to drop her off at a location when Rose saw her exiting the vehicle.
The defendant then approached and hit the car door and left after an argument.
On the following day at Festival City, Mangru said, Rose again encountered the complainant, at which point he pulled out a black handgun and discharged it, hitting Braithwaite in the buttocks.
The prosecutor objected to the accused being granted his pre-trial liberty, citing a potential risk of flight as he has been evading the police since the day in question. The court was told that even when the police went to Rose's home to arrest him, he climbed onto his roof in a bid to evade the lawmen.
Additionally, Mangru said that there is a likelihood that Rose will tamper with the witness, since he had interfered with him on more than one occasion.
Attorney Peter Hugh, who represented the accused, made a passionate but unsuccessful plea to secure his client's liberty.
Hugh contended that since the alleged incident, his client has not interfered with Braithwaite and refuted the prosecutor's argument of Rose being a flight risk.
Counsel questioned too the reason for his client being kept in custody for more than 72 hours. He said that Rose had been taken into custody since Friday but no reason was given for him not being taken to court on Monday. To this, the magistrate ordered the prosecutor to launch an investigation.
She however, informed Rose that he will be remanded to prison. His matter will be called again on June 16.
Around the Web