A Guyanese man is expected to be arraigned tomorrow in the Queens Supreme Court, New York after he was found mentally fit to stand trial on state and federal hate crime charges two years after he was arrested for firebombing a mosque, the New York Daily News has reported.
According to the report Ray Lengend was being treated at a maximum-security mental hospital until last month but is now fit for proceedings, according to papers filed in a Brooklyn Federal Court.
Lengend, 43, is charged with hurling a Molotov cocktail at the Imam Al-Khoel Islamic Center in Jamaica, Queens, in December 2011. He allegedly said he carried out the attack because he was not allowed to use the mosque's bathroom.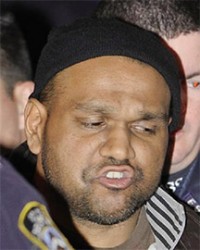 The newspaper said that during a terrifying spree, he also allegedly carried out five fire bombings using Starbucks Frappuccino bottles filled with gasoline that targeted Muslims and an Arab-owned grocery store.
Lengend told cops he wanted to kill "as many Muslims and Arabs as possible," authorities said.
Around the Web