Defence witness Joy Anne Rowley, testifying yesterday in the trial of her son Roger Pilgrim, who is accused of killing his neighbour in A' Field Sophia in 2011, said the victim had been chasing her son with a chain before he retaliated by stabbing the man.
Rowley, the mother of Pilgrim, said she was washing clothes when she heard their neighbour, Shane Rowley, and one of her sons having an argument in the yard. She stated that she came out of the bathroom and told Shane to stop arguing but he continued.
She said Shane lashed her with a chain across her face and they started to fight and he ripped her dress all the way down. She said Pilgrim came out and yelled, "How you gon knock my mother?" Shane then slammed the chain into him, she said, and he chased him around the yard. She said she saw her son pick up a knife and "fire two juk" at Shane, who immediately fell to the ground.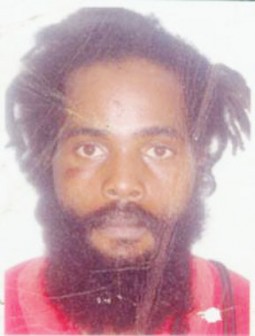 Pilgrim is accused of killing Shane Rowley in January, 2011, after a long-standing feud over the use of a passageway. He is on trial before a 12-member jury and Justice Dawn Gregory in the High Court.
In his caution statement, Pilgrim had admitted to stabbing Shane twice. He said he was sleeping when his younger brother woke him up and told him to look through the window.
He said he saw Rowley, with a big chain in his hands, saying that nobody was allowed out of the yard. He said that Shane and his brother Sherwin had a confrontation and he sent his mother out to see what was happening. He recalled seeing Shane shove his mother and he immediately went out.
He said he was lashed across his back with the chain by Shane, and he retaliated by picking up a knife that was close by.
Pilgrim stated that Rowley attacked him and he, in defence, knifed him in his neck and abdomen. He added that he disposed of the knife and left the yard.
State attorney Natasha Backer yesterday accused Joy Anne Rowley of lying to save her son under cross-examination. Backer said Rowley changed her testimony twice, once to the police and the other time in the Georgetown Magistrates' Courts.
"No! I speak the truth. I gave the police the same statement I gave at the Magistrates' Court," Rowley responded.
Pilgrim is represented by attorney Hukumchand while state attorneys Backer and Mercedes Thompson are presenting the state's case.
The trial continues today with the defence calling its second witness.
Around the Web