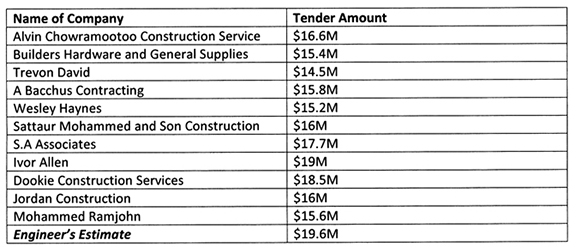 Government is going ahead with a $19.6M confinement area for youths of the New Opportunity Corps (NOC) amid ongoing concerns about conditions there.
Residents of the NOC have complained to an ongoing police investigation about squalid conditions in a detention room at the Onderneeming, Essequibo Coast facility which the Ministry of Youth has since described as a "quiet room".
Based on information made available to Stabroek News, the confinement building will have what are being described as eight "holding cells" 9 ft. by 12 ft. The building will also have two recreation rooms, a group counselling room, an individual counselling room, a storage room and two staff rooms.
"They are building prison-type cells for these youths and that is not one of the mandates of the NOC …this solitary confinement area exposes children from as young as 14 to a hardcore prison life and it will do nothing but destroy them psychologically. That is research proven," A Partnership for National Unity's Parliamentarian and youth advocate Christopher Jones told Stabroek News on Tuesday.
Efforts to contact Ministry of Culture, Youth and Sports, Permanent Secretary, Alfred King for comment proved futile. Several calls made to his office were met with responses that he was not in.
Jones explained that one of the NOC's objectives was to rehabilitate delinquent youths so that at the completion of their stay they will make a meaningful contribution to society.
However, he believes that having them confined "in a prison-type setting" prepares them for lives as hardened criminals.
Other persons have also raised concerns about having a confinement area for the youths.
"The Ministry has made a terrible mistake here. … if Frank (Anthony, Minister of Culture, Youth and Sports) had his people undertake the simplest of studies they will see that this type of treatment destroys the child. It has yielded zero positive results wherever it was instituted," a practising child psychologist, for over four decades, told Stabroek News.
The psychologist pointed out that while she doesn't know how the ministry plans to use the facility the mere thought of its construction was "shuddering to even conceptualize".
A welfare officer explained that the reason the child protection agency has intensified its calls for parents and guardians to get involved with their children at the institution with the aim of taking them home eventually, was because it has long been known that the conditions at the NOC were oppressive. "There are many factors here. We don't have enough skilled people to deal with these children and you have to look also at the wide cross-section of society they come from…I don't believe NOC will work for anyone but it is here and we have to make the best of it," the Welfare Officer said.
"Many of the children are street children sent there for wandering. It isn't necessarily that they had a criminal offence but when they are picked up to go before the courts it's another story…we visit their homes and beg families to go pledge for the children but some already give up on them. With this new set up, it seems the system too has given up on them …what they are saying is that they are prisoners," the welfare officer added.
Tenders for the project construction were opened on Tuesday at the National Procurement and Tender Administration Board, Georgetown.
Respective companies and their bids are shown below.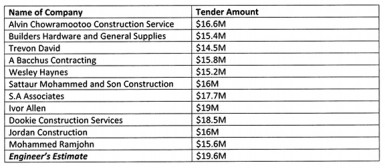 The NOC is at the centre of a probe where residents have complained of physical abuse by staff and other problems. The Child Care and Protection Agency is presently conducting investigations, along with the police, after moving to the court to secure protective custody of the complainants from the NOC.
Around the Web