An 11-member Electoral Observer Mission from the Caribbean Community is in Antigua and Barbuda to monitor national elections set for today.
The Caricom Electoral Observer Mission is led by Jamaica's Director of Elections Orrette Fisher who is in the country on the invitation of the Government of Antigua and Barbuda, a press statement from the Caricom Secretariat said. The group also includes representatives from the following Caricom member states: The Bahamas, Barbados, Belize, Dom-inica, Grenada, Jamaica, St Kitts and Nevis and Trinidad and Tobago and two staff members from the Caricom Secretariat.
The Advance Group, including Fisher and the staff members of the Caricom Secretariat arrived on the island nation on Friday while the other representatives arrived on Sunday.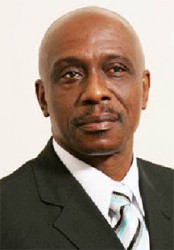 Since arriving in Antigua and Barbuda, the Advance Group has paid a courtesy call on       Prime Minister Baldwin Spencer, and has met with the Leader of the Opposi-tion Gaston Browne of the Antigua and Barbuda Labour Party (ABLP), L. Chaku Symister, Chair-man of the United Progressive Party (UPP), and Lorna Simon, Chief Elections Officer of the Antigua and Barbuda Electoral Commission (ABEC).
The Advance Group was hoping to meet with the chairman and members of the Antigua and Barbuda Electoral Com-mission, the police commissioner and the representatives of various NGOs ahead of today's polls.
On the day of elections, the observer mission will monitor activities in 16 of the 17 constituencies, including the Opening of the Poll, Voting, Close of Poll and Tallying of the ballots. The mission will issue a preliminary statement based on its observations followed by a full report to Caricom Secretary-General Irwin LaRocque.
The Caricom electoral observer mission says it is pleased for the opportunity to support and strengthen the democratic process in the Region and appreciates the high level of facilitation and cooperation received since its arrival in the country.
Around the Web