Local Government Minister Norman Whittaker has said that government's Town Clerk appointee Carol Sooba did not improperly use city funds to hire a lawyer, contending that established City Council procedures were followed.
This was revealed on Tuesday but Deputy Mayor Patricia Chase-Green maintains that Council's procedures were not adhered to.
In a letter to Mayor Hamilton Green from acting Police Commissioner Seelall Persaud, the acting commissioner had said that the matter was investigated and legal advice was obtained. "The Director of Public Prosecutions indicated that there seems to be conflicting views as to how the money was spent, and advised that these issues be resolved within the council," the letter said.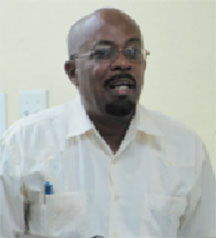 However, a report from the Assistant Commissioner Law Enforcement seen by this newspaper on Tuesday said, "Assistant Superintendent S. Reid obtained a letter to the Auditor General signed by Mr. Norman Whittaker, the Honourable Minister of Local Government and Regional Development informing him that he had a discussion on the issue with the Honourable Attorney General and Minister of Legal Affairs who advised that the payment to the Attorney-at-Law was done following established accounting procedure at the Mayor and City Council."
But Chase-Green said the procedure outlined that anything above $2,000 goes to the Finance Committee, which will then make a recommendation, which the council will approve. "The council has a policy where the two members to sign that voucher will the Chairman of the committee and the Vice Chairman," she added.
Auditor General Deodat Sharma had confirmed in March that he was conducting an investigation of the allegation that Sooba improperly used monies from the city to hire a lawyer to look after her interests
The probe was based on a complaint by Chase-Green, who said that the money was to pay for legal fees to attorney Roysdale Forde for "professional services rendered in relation with the matter of Application by Royston King Action #103-M."
King had moved to court against the Local Government Minister's decision to select Sooba as Town Clerk although she did not meet the advertised criteria for the post. In the letter, Chase-Green said that at no time was Sooba ever named as a party in the court proceedings launched by King. The action was also never filed against the council, but rather against the Minister of Local Government, she said.
Chase-Green had also stated in the letter that the payment voucher to the tune of $500,000 was prepared and "purportedly signed by an officer of the council and a councillor.
She contended that this constitutes a misappropriation of the council's funds for several reasons, including the fact that the council did not authorise the transaction and that the named attorney was not one used by the council. She also said that the decision to engage Forde was never discussed at the council's finance committee and did not follow the standard procedure established by the council to engage lawyers.
Around the Web