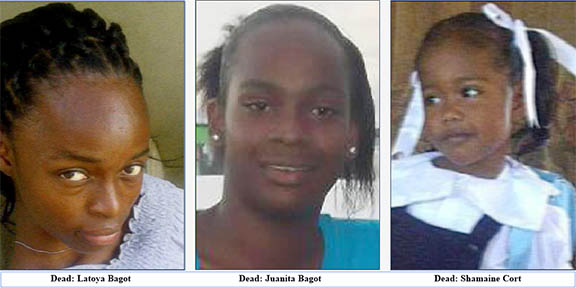 A No 51 village car driver is in police custody assisting with investigations following a series of accidents on the Corentyne Public Road last evening that left three persons dead.
The accidents claimed the lives of two sisters Latoya, 19, and Juanita Bagot, 16, and their three-year-old niece Shamaine Cort of Philippi. The accidents around 7 pm also left two cyclists: Delroy Park, 28, of Kilmarnock, Corentyne and Matthew Mc Bean, 19, of No.35 Village, Corentyne nursing injuries. The girls were all pronounced dead on arrival at the Port Mourant hospital. The injured Mc Bean is currently receiving treatment at the New Amsterdam hospital while Park who sustained less serious injuries was treated at the Port Mourant Hospital and sent home.
According to reports, the detained 18-year-old driver was at the wheel of PPP 5842 when he struck down Park who was cycling home from work. The driver failed to stop and sped away at which point he slammed into the Bagot girls and their niece at Philippi.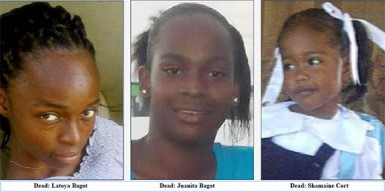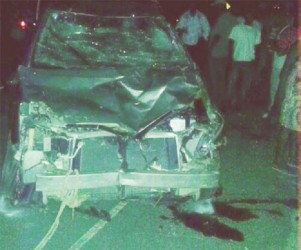 According to a cousin, Patrick Davis, he was on his veranda and noticed his cousins walking home from the shop. He recalled hearing a car "accelerating" on the public road and seconds after a loud sound. "I hear a car accelerating at a very fast rate coming from New Amsterdam direction only to hear, moments after Bladam!" Davis said. He added that when he ran out of his house, he found his cousins lying motionless feet away from the point of impact. The three-year-old niece was discovered approximately 10 feet away from her aunts.
Eyewitnesses stated that Latoya died on the spot while her sister and niece were unconscious when they were taken to the hospital.
Public-spirited citizens responded quickly and rushed the girls to the hospital. The sisters were in the care of their brother and aunt as their mother had left the country two weeks ago. Sixteen-year-old Juanita had completed writing her Caribbean Secondary Schools Examinations only on Tuesday.
Meanwhile, the driver who failed to stop after hitting down the girls, then struck Mc Bean. Mc Bean, who sustained head injuries and is listed as critical at the hospital was making his way home from work as well.
Following the third collision, the driver failed to stop and then tried to flee the scene. However public-spirited persons chased behind him and he was cornered by the residents at Number 35 Village. After being chased by the residents, the driver lost control of his Toyota Spacio car and crashed into a drain. From investigations it was revealed that the driver was under the influence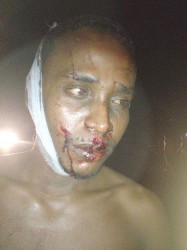 of alcohol.
The girls leave to mourn their siblings, parents and other relatives and friends. Police investigations are ongoing and the driver is expected to face charges soon.
Around the Web