A six-year-old boy, who tried to escape a speeding car, is now battling for his life in the Intensive Care Unit of the Georgetown Public Hospital (GPH) after being struck and pinned into the bars of a steel fence.
The St. Pius Primary student, Joseph Quallis, of Lot 205 Middle Road, La Penitence, was yesterday rushed to the GPH, where he was quickly attended to and taken to the ICU in critical condition.
Police arrested the driver and he was also taken for medical attention. However, he was prevented for nearly an hour from entering the hospital after relatives surrounded the police mini-bus barring the door.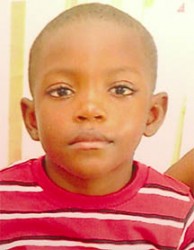 Quallis' mother, Shelly Anne, was devastated and weeping at the entrance of the hospital after doctors told her that it was unlikely that he would survive the accident. She said she had sent her son to a shop, a few houses away from their dwelling and she was at her window when she saw a speeding car racing down the street and hit her child. "I jump and holler that somebody child just get hit. Then when I see them take him out from the accident, I see is my son and I run out the place to go and get him," the distraught woman said.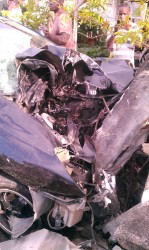 The accident occurred around 3:30 pm after the boy was returning from the shop. One eyewitness said he heard the screeching of tires and loud music and when he looked he saw the car, PPP 5931, speeding down the road. He said Joseph ran to the bridge of someone's yard as the car got closer and was suddenly slammed into the bars of the fence of the gate and trapped.
The man said people ran to the scene and had to pry the boy's unconscious body out from behind the bars. He said the boy's head had a huge gash.
"Jermaine (the driver of the car) come out and said he couldn't get control of the car; that a demon take over the car. But if he brakes didn't working why he was driving so speed on the road," the man said.
Around the Web