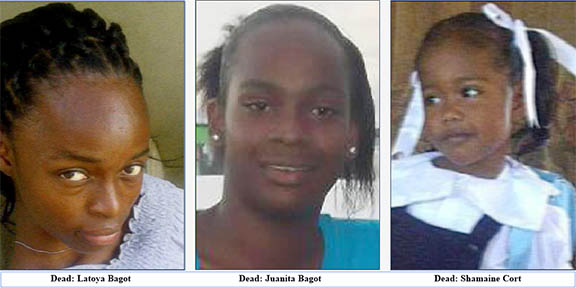 By David Papannah
The families of the two sisters and their niece killed in a horrific hit-and-run accident on the Corentyne on Wednesday evening are in deep sorrow and the father of the accused driver yesterday extended his sympathies over the deaths.
On Wednesday at around 19:00hrs, one of three hit-and-runs by the same driver claimed the lives of sisters Latoya, 19, and Juanita Bagot, 16, and their three-year-old niece Shamaine Cort of Philippi. The other accidents left two cyclists: Delroy Park, 28, of Kilmarnock, Corentyne and Matthew Mc Bean, 19, of No.35 Village, Corentyne nursing injuries.
Reports are that the detained 19-year-old driver, Nekash Persaud was at the wheel of PPP 5842 when he struck down Park, who was cycling home from work at Kilmarnock Village. The driver failed to stop and sped away at which point he slammed into the Bagot girls and their niece at Philippi. The driver fled from the scene and struck down Mc Bean who remains in critical but stable condition at the New Amsterdam Hospital. Mc Bean was struck at #35 Village, Corentyne just metres away from his home.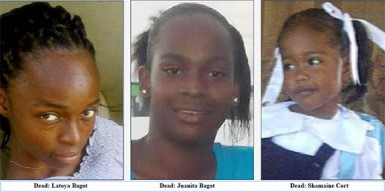 Yesterday, when Stabroek News visited the home of the sisters, residents were still talking about the tragedy. Many gathered at the family home and offered words of comfort to the devastated relatives. Many also assisted in setting up a tent and other preparations for a wake.
Nigel Cort, a brother of Latoya and Juanita, recalled the last moments he spent with his sisters. Cort said minutes before the incident occurred he and his sisters along with friends were cracking jokes in front of their home. "We had a nice time gaffing" he said.
Cort added that during the conversation his three-year-old niece asked him for a hundred dollars. "I questioned her what she would do with the money and why she wanted it like I always do", Cort explained. He added that his niece answered that she wanted to buy cheese sticks. He said he gave the girl the money and told her that her father would take her. However, her father said that he would take her the following day. At the same time, her aunt Latoya was heading to the shop to purchase phone cards to call her mother; Juanita and Shamaine then accompanied her, the brother recalled. However, the shop next door did not have what they wanted and they told Cort that they were "going up the road" to another shop. Cort further explained that he went upstairs and was on the veranda when he heard an impact and he rushed out to the road. "I heard an impact and I run downstairs right away to see what it was", he related to Stabroek News. "While I was heading out on the road, a car coming from the east lights flashed and I saw a person lying in the middle of the road. I run and I saw it was my sister Juanita. I recognized her from the blue pants she had on, he explained. He added that after he held his sister and she was not responding "I said `Juan! Juan! Don't do this to me' and she didn't answer", a teary-eyed Cort recalled.
The devastated brother recalled that he found his other sister on the parapet on the road while his niece was found some distance away.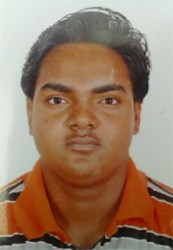 The sisters' mother who is currently abroad took the news extremely hard. Cort said he first told his mother that his sisters had broken hands and feet. However, an uncle who resides overseas delivered the news to his mother and she broke down in wails. Cort said Shamaine's father is also in deep distress.
According to a cousin, Patrick Davis, he was on his veranda and noticed his cousins walking home from the shop. He recalled hearing a car "accelerating" on the public road and seconds after a loud sound. "I hear a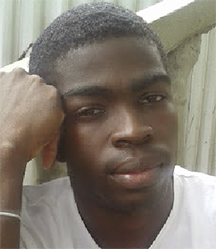 car accelerating at a very fast rate coming from New Amsterdam direction only to hear, moments after `Bladam!'" Davis said. He added that when he ran out of his house, he found his cousins lying motionless.
The family of the driver is also in anguish. Stabroek News learnt from the father, Lakeram Persaud that his son before leaving home told his mother that he was going to Skeldon to pick up some DVDs and CDs for his business at the Rose Hall Town Market. According to the father, he was not at home when his son left. "If I was home he would not have left because he is afraid of me. We work all day at the market and when we go home we don't normally come out back", the father explained. Persaud later stated that, he was working his taxi on the road and when he went home his wife told him that their son had not returned home and they became worried. At around 20:00 hrs they received a telephone call from the police who informed them of what occurred.
The family extended sympathies to the relatives of the deceased. "I am very sorry about what happen. I want to tell the family I am very sorry for their loss. I know the family very well they are my regular customers. I am afraid to go by the family I don't know if they would talk to me", Persaud said.
This newspaper also learnt that the driver only got his licence about six months ago and it was unusual for him to drink and drive. The father also speculated that after his son hit the first person he must have become confused and continued to drive in an effort to get home. "It is wrong, he should have stopped", he said.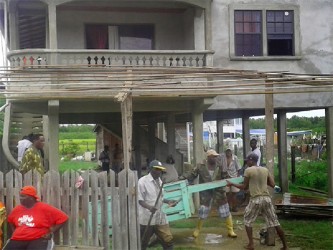 The Bagot family said they are seeking justice as they feel as if it is the only way they could feel at ease for the loss of their loved ones.
Park, who is at home recovering, told the media that he was heading home when he felt an impact from behind. He stated he did not know how the incident occurred, explaining that it was all of a sudden.
Following the third collision, the driver failed to stop and then tried to flee the scene. However public-spirited persons chased behind him and he was cornered by the residents at Number 35 Village. After being chased by the residents, the driver lost control of his Toyota Spacio car and crashed into a drain. From investigations it was revealed that the driver was under the influence of alcohol.
The girls leave to mourn their siblings, parents and other relatives and friends. Police investigations are ongoing and the driver is expected to face charges today.
Around the Web