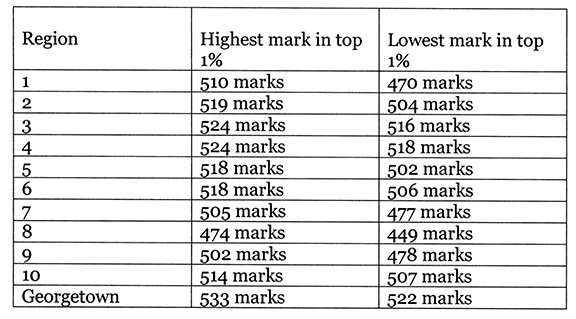 A significant improvement in passes in English was offset by a sharp decline in passes in Mathematics recorded at this year's National Grade Six Assessment (NGSA).
Mathematics remains a major concern, with a decline from a pass rate of 43.94% in 2013 to 31.52% among the 15,227 candidates who sat the examinations this year, Minister of Education Priya Manickchand revealed yesterday.
Manickchand also noted a decline of 9.6% among boys in Mathematics and 11.6% among the girls.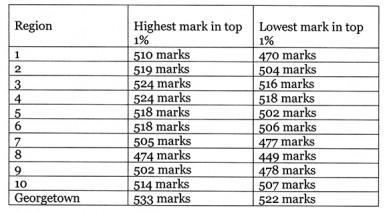 In contrast, English has seen an improvement of nearly 25% in passes: from last year's 28.73% to 51.92% this year. All regions showed an improvement of 9.6% except for Regions 10 and Georgetown, which showed improvements of more than 25%. Manickchand made special mention of the improvement in the percentage of boys gaining 50% and more.
In Science, there has also been an improvement; from 31.77% in 2013 to 43.75% in 2014. In this subject, boys in region 5 and 10 achieved more than a 15% increase while girls in several regions including regions 2, 5, 10 and 11 showed improvements of more than 14%.
The passes in Social Studies remained on par with the previous pass rate; however, the girls this year have showed an improved performance.
Over the span of 20 years (1994 – 2014), there have been improvements in pass rates in all subject areas; in Math: 10.6% to 31.52% (a 20.92% improvement), in English: 14% to 51.92% (a 37.92% improvement), in Science: 30% to 43% (a 13% improvement), and in Social Studies: 16% to the current 40% (a 24% improvement).
This year's top 1% of students, a total of 168 candidates, was made up of 79 males and 89 females.
 Private vs public schools
This year's results have shown an increased number of private schools in the top scoring positions. Schools such as Success Elementary and Mae's Under 12 have dominated the top 1%: Success Elementary gained 20 students with 7 alone in the top 25 positions, while Mae's Under 12 earned 19 students out of the top scorers. Fewer than 10 public schools scored in the top 25 positions.
The best performing public school was Winfer Gardens, with 8 students.
During a press conference yesterday, questions were raised about the ministry's position on the performances amongst private schools when compared to those of public schools.
Olato Sam, Chief Education Officer, applauded the success of all students, regardless of the school they attended. "We support the education of all of our children and applaud their performance regardless," he said.
Manickchand also pointed out a number of factors that have possibly led to better marks amongst private schools, including the screening process children undergo before entry into these schools, the fewer difficulties private schools experience in dismissing teachers, and increased involvement and investment by parents who choose to enroll their children in private schools.
Meanwhile, investigations into irregularities concerning the NGSA are continuing. In May, the ministry announced the discovery of irregularities in the conducting of the examination in a particular school in region 1 and launched internal investigations. The irregularities reportedly affected the integrity of the school's NGSA results.
According to Manickchand, the investigations are ongoing to discover not only the source of the problem but also to minimize the likelihood of recurrences.
In the meantime, students who had been affected are scheduled to take another exam on July 2 and 3.
The highest possible total score for this year's NGSA was 540 marks (Mathematics – 136; English – 132; Social Studies – 137; and Science – 135). This year's results are a composition of the National Grade Two assessment in 2010 and the National Grade Four Assessment in 2012 along with this year's National Grade Six Assessment written on April 16 and 17.
While Region 7 showed the most improvement, with a 15% increase in passes from last year, regions 3 and 4 and Georgetown reaped the highest marks this year.
The cut off marks for the top schools are as follows:
Queen's College – 514
The Bishops' High School – 510
St. Stanislaus College – 506
St. Rose's High School – 503
St. Joseph's High – 500
Though cut off marks were not mentioned for President's College, the school remains one of the A schools in Region 4. According to a release from the Ministry of Education, non-residential placements are awarded to candidates in region 4 from Mahaica to Cummings Lodge who have attained a minimum score of 491 marks while residential placements are awarded to students from all the other regions except region 3 who have attained scores of 491 marks and above.
Around the Web