More than a month after being beaten and wounded by a group of coastguardsmen, a 17-year-old Charity, Essequibo Coast labourer is looking for closure from police, who are yet to lay charges against his attackers.
After conducting its own investigation of the case, the Guyana Defence Force (GDF) last month moved to discipline the officers involved in the attack on Dhanniram Rodrigues.
On April 21, Rodrigues, 17, of Charity Extension Housing Scheme, sustained a gaping wound to his right hand and injuries to his head and other parts of his body.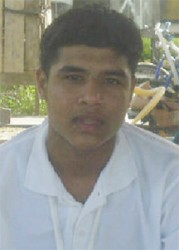 His family said the matter was reported to the police over a month ago and even though Rodrigues gave statements about the attack there has been no action so far.
When approached by Stabroek News for a comment yesterday, a detective dealing with the matter said that the file has been sent to the Director of Public Prosecutions (DPP) for advice. More than a month ago, the police told the teen and his mother that they were sending the file to the city for it to be dispatched to the DPP's Chambers for advice on the way forward.
Rodrigues was admitted into the Suddie Public Hospital on Monday last and surgery was performed on his damaged right hand on Tuesday.
The boy told Stabroek News that he is frustrated with the pace at which the investigation into the matter is being conducted.
The boy recalled that on Easter Monday night around 11:30, he was in the Xenon Night Club and went to the bar to purchase beers for his brother and friend when five men attacked him. He said he held on to a post and another man took a broken and bottle and rubbed it constantly on his right hand, causing the damage. Rodrigues said he was able to escape his attackers for a short while and ran onto the public road, where he saw a policewoman and held on to her for protection. He believes that he was mistaken by the men for someone else. A ligament in the teen's hand was severed and even though the surgery was done, he said he still feels immense pain.
Family members, who want justice for Rodrigues, noted that a large amount of money was spent. They are hoping that the matter can come to an end soon. "We have a lot of expenses now since my son is unable to work and for the past two weeks we had to be travelling back and forth to Suddie in order for him to do the surgery," said his mother.
Around the Web