Scotiabank's Robb Street branch on Wednesday played host to a flash mob organised by the Sonia Noel Foundation for Creative Arts in collaboration with the Guyana Sickle Cell Association (GSA) in an effort to raise awareness about the incurable sickle-cell disease.
The performance, dubbed "Breaking the Cycle," consisted of models who enacted a skit accompanied by a song, depicting the loss of oxygen the blood cells suffer because of the disease.
Event organiser Sonia Noel expressed her concern for those affected by the disease and said that she was happy to lend her name to a good cause. She believes that people need to be educated about the disease, especially because it is prevalent within the West Indies and Sub Saharan territories.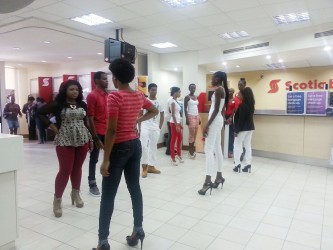 Noel encouraged the public to participate in the events leading up to World Sickle Cell Day on June 19th. Apart from the next flash mob, which will be staged at Scotiabank's Carmichael Street branch, there will be a fashion show and auction on June 21st at the Pegasus Hotel. All proceeds will be donated to GSA to help those suffering from the disease.
Around the Web