The Transport and Harbours Department (T&HD) says that on Monday a speedboat made a rough mooring at the Georgetown Ferry Stelling, dislodging treaders used by passengers to disembark.
In a statement yesterday, the T&HD said that "workers were immediately dispatched to effect repairs". It noted that these steps are used by the small passenger boats plying the Georgetown – Vreed-en-Hoop Service.
The statement said that the impact also cut a tie-rod that holds the string boards together.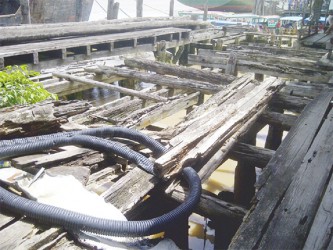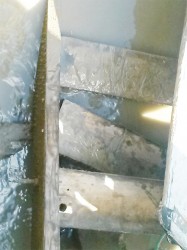 "The Management of the Transport & Harbours Department is very mindful of its obligations to provide safe access to persons using the service but it needs greater care and cooperation from the boat captains.
Further it will be working with the Maritime Administration Department to rein-in reckless captains like the one whose boat damaged the steps", the T&HD said.
When Stabroek News visited the stelling on Tuesday, it was told that after the treaders was dislodged there was a back-up in speedboat traffic as another step had to be utilised. Around 20 boats were waiting at one point with passengers to disembark.
Persons at the wharf complained about the state of the stelling. They acknowledged that while it was the recklessness of the boat captain that caused the initial problem on Monday there are rotten boards and zinc missing from the ceiling among other issues. Leaking from the roof is said to be a major issue.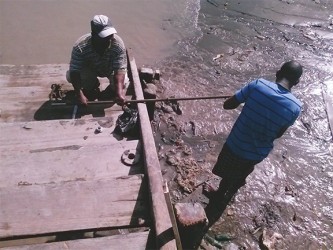 Around the Web