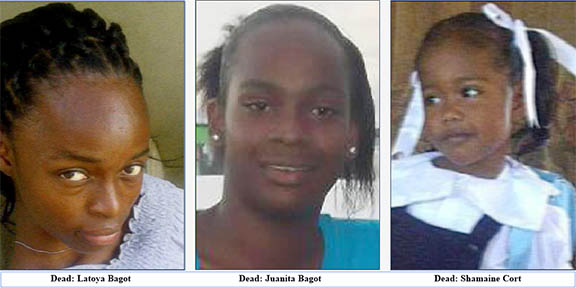 Nakash Persaud, accused of a series of hit and runs while driving drunk, was yesterday remanded to prison after being charged with the deaths of three pedestrians.
A market vendor, Persaud, 18, of Lot 121 Village, Corentyne, appeared before Magistrate Rabindranauth Singh at the Springlands Magistrate's Court to answer 10 charges in total, stemming from the accidents, which occurred on Wednesday evening.
He was charged with three counts of causing death by dangerous driving. The charges, which were read separately, stated that on Wednesday, June 11th, 2014, he drove PPP 5842 at Phillipi Farm in a manner that is dangerous to the public, causing the death of Tabitha Latoya Bagot, 19, Juanita Malika Bagot, 16, and three-year-old Shamaine Cort, all of Philippi Farm, Corentyne.
Persaud was not required to plead to the indictable charges.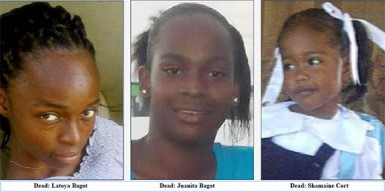 He, however, pleaded not guilty to seven other charges, being three counts of failure to stop after an accident and three counts of failure to render assistance and one count of driving under the influence of alcohol. The driving under the influence of alcohol charge stated that he exceeded the permitted amount. A breathalyser test conducted on Persaud said he had consumed 68 microgrammes of alcohol, which was above the legally permitted amount of 35 microgrammes.
Police Prosecutor Corporal Althea Solomon argued that bail should be refused on the grounds of gravity of the offences. "This accused drove dangerously, killing three Guyanese citizens and left two injured one of whom is critical in the hospital," she said, referring to Delroy Park, 28, of Kilmarnock, Corentyne and Matthew McBean, 19, of No.35 Village, Corentyne.
Solomon also explained that the accused was highly intoxicated and did not stop at any of the three collisions that resulted from his "reckless" driving on the public road.
It was also stated that other charges might be laid against Persaud, following further investigations.
Attorney Krisendat Persaud, who appeared for the accused in the absence of his attorney, stated that he would not press for bail since other charges might be laid against the accused. However, he urged the court he urged the court to conduct the trial in a timely manner.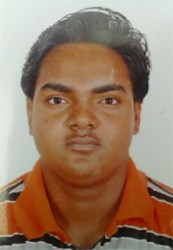 Persaud is expected to make his second court appearance at the Whim Magistrate Court on July 2nd.
Stabroek News was told that Persaud first allegedly struck down Park, who was cycling home from work at Kilmarnock Village. The driver reportedly failed to stop and sped away, at which point he slammed into the Bagot girls and their niece at Philippi. The driver then reportedly fled from the scene and struck down McBean, who now remains in critical condition at the New Amsterdam Hospital.
After the third collision, the driver failed to stop and then tried to flee the scene. However, he was chased by public-spirited persons and he was cornered by the residents at Number 35 Village. Persaud lost control of his car and crashed into a drain.
Persaud's family had told Stabroek News that he had left home to go in Skeldon to pick up CDs and DVDs for his business. The family remains clueless as to how Persaud was traversing from the west heading home. "I am very sorry about what happen. I want to tell the family I am very sorry for their loss. I know the family very well, they are my regular customers. I am afraid to go by the family I don't know if they would talk to me," Lakeram Persaud, father of the accused, told this newspaper.
Around the Web