Six-year-old Joseph Quallis died late Thursday night at the Georgetown Public Hospital, hours after a speeding car slammed into him and pinned him to a fence.
The St. Pius student, of Lot 205 Middle Road, La Penitence, was rushed to the hospital after his body was pulled out of the bars of the steel fence, where the car came to a rest.
The driver of the car, which carried registration PPP 5931, was moving speedily down the road and blasting music when the accident occurred. The driver, identified as "Jermaine," later told neighbours of the boy that he lost control of the vehicle. The driver was still in police custody yesterday.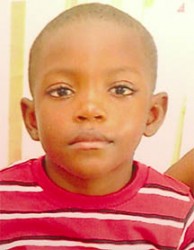 A post-mortem examination is expected to be carried out on the boy's remains next week, a relative said yesterday.
Quallis' cousin, Sherry, said doctors broke the news to his mother, Shelly Anne, around 9m on Thursday night. "Everyone is confused… like we can't believe what happened. Shelly Anne is not doing well. We didn't expect this," Sherry said, breaking down in tears.
The accident occurred around 3:30 pm, after the young boy was returning home from a nearby shop. One eyewitness said he heard the screeching of tires and loud music and when he looked he saw the car speeding down the road. He said Joseph ran onto the bridge of someone's yard as the car got closer and was suddenly slammed into the bars of the fence of the gate and trapped.
His mother was devastated after doctors told her that it was unlikely that he would survive the accident.
She said she had sent her son to a shop, a few houses away from their dwelling and was at her window when she saw a speeding car racing down the street and hit a child. "I jump and holler that somebody child just get hit. Then when I see them take him out from the accident I see is my son and I run out the place to go and get him," the distraught woman had told Stabroek News.
A press release from the police stated that driver was in police custody assisting with the investigation.
Around the Web