A Brazilian national was on Thursday fined for forging and inserting false stamps in his passport.
"I did something I should not have done," 63-year-old miner Ryan Mundo Barrows confessed to Chief Magistrate Priya Sewnarine-Beharry at the George-town Magistrates' Court One.
Barrows, who resides in Alberttown, had been occupied as a miner in Guyana for the past five years.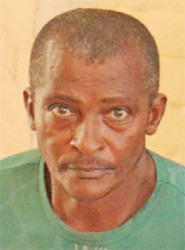 He appeared in court on two separate charges.
The first charge read that on June 10, at Ogle, East Coast Demerara, he issued to Police Constable Natasha Ally, a forged Brazilian passport, B001202, which contained a false immigration entry stamp.
Barrows was also charged with conspiring with persons unknown to forge two Guyana immigration stamps in the same passport, between May 1 and May 13 at Moleson Creek.
The father of three was represented by attorney Peter Hugh, who asked the court to exercise discretion in the circumstances, as Barrows "obviously does not wish to waste the court's time."
Hugh added that Barrows was, at all times, very cooperative with the police and he was "a very hardworking person."
Barrows was then fined $75, 000 on each of the two charges with an alternative of three months' imprisonment in default.
Around the Web