The Guyana Gold and Diamond Miners Association (GGDMA) yesterday donated $1 million to the Guyana Police Force to support its 'Impact Albouystown Project.'
According to a police press release, President of the GGMC Patrick Harding made the donation to the acting Police Commissioner Seelall Persaud at the Commissioner's Conference Room at Eve Leary.
The presentation was held in the presence of senior officers, including divisional and branch commanders, and Vice President of GGMC Charles Da Silva.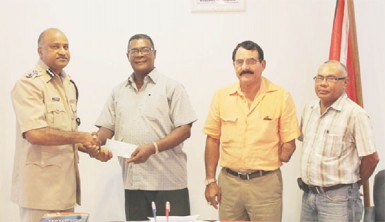 Harding said the association was pleased to be able to contribute towards the community project through the kind gesture of some of its members while wishing the force success in the project, the release said.
Harding also said he trusts the contribution would make an impact within the community and added that he hoped the project would extend to hinterland communities.
Meanwhile, Persaud said that the donation would go a long way in assisting with the implementation of the project, while indicating that divisional commanders were tasked with instigating similar projects in their areas, the release said.
The release added that Persaud said the donation would be used in the preparation of a document dealing with the improved policing of the interior by a team of officers, following major discussions that were held on the issue during this year's Annual Police Officers' Conference.
Around the Web