There is no reason why local government elections should not be called as soon as possible aside from logistics issues, says Private Sector Commission (PSC) Chairman Ramesh Persaud.
His voice is the latest addition to those that see the need for the elections and during an interview with Stabroek News he said his reasons for speaking on the matter stem from the varying negative implications the lack of such elections has had on Guyana's business community.
Neighbourhood Democratic Councils (NDCs), of which there are sixty-five, and Municipalities, of which there are six, play integral roles in the operations of businesses all across Guyana, Persaud said to Stabroek News during a recent interview.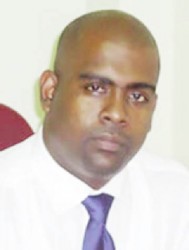 These local government bodies, he pointed out, are responsible for everything from processing applications to construct business premises and disseminating construction permits to carrying out inspections ahead of the commencement of business operations. Persaud argues that the lengthy delays in holding local government elections – the last of which was held in 1994 – has had a huge impact on the quality of services offered by the local authorities.
 Slowed productivity
Persaud criticised the NDC and municipal services, which include their inefficient management of solid waste and said this has slowed the productivity of Guyana's businesses. A World Bank ease of doing business index noted the level of difficulty associated with doing business in Guyana in relation to some issues controlled by local government.
Out of the 189 countries surveyed, the index, which benchmarked the countries' economies to June 2013, ranked Guyana 115. This ranking puts Guyana far behind Caribbean neighbours including St Lucia, which ranked 64; Trinidad and Tobago, which ranked 66; Antigua and Barbuda, which ranks 71; and St. Vincent and the Grenadines which ranks 82.
Though Guyana ranked very low overall, the index stated that with regard to starting the business the country ranked 94, while it ranked 33 with regard to dealing with construction permits. Additionally, the country ranked 155 with regard to the ease with which businesses are able to apply for and receive electricity; and 111 with regard to the ease with which property can be registered.
Persaud says he knows of a case where a prospective business operator had to wait three months before he received a response from a local authority on a business permit. In another case, he said, another prospective business operator has been waiting for several years.
The result of reduced business productivity is reduced competitiveness among businesses in Guyana, as well as the reduced ability of businesses here to compete with overseas businesses targeting the Guyanese market. It also has the potential to affect the ability of businesses here to compete in overseas markets with overseas competitors who may be benefitting from greater ease in establishing and operating their businesses.
The reduction of a company's ability to compete results in decreased innovation, which can lead to a reduction of the quality of goods and services offered. This also affects competitiveness.
On a grander scale, reduced competitiveness has the propensity to affect the performance of a country's economy. Aside from the implications on business operations, Persaud also expressed concern that the non-holding of local government elections denies young people the chance to get involved in the management of their communities.
Difficulties, however, persist even after businesses are established. Persaud that though businesses pay rates and taxes many of them are forced to make additional arrangements for private companies to pick up the slack left by those they are compelled to pay for such services.
Persaud says these realities need to be reversed and he expressed the view that this can only be done by rejuvenating the existing NDC and municipal councils. The only way the council can be refreshed, though, is by holding local government elections.
PSC advocacy and lobbying
Asked if the PSC plans to mobilise its membership to press government for local government elections, Persaud said that while the body has advocacy and lobbying roles he believes such actions would amount to political action. He further said that this would be problematic as the PSC's members have varying political preferences and mobilising them to press government for local government elections would amount to attempts to control their political direction.
He believes the PSC is not a political actor, and therefore cannot engage in the sort of mobilisation alluded to. Instead, he said the PSC has been having ongoing meetings with government as well as other stakeholders on good governance principles including local government elections.
These engagements, he explained, have been going on for several years. To date though, government is yet to call for local government elections to be held, and, various government members continue to offer reasons why local government elections must be further delayed.
When it was pointed out to Persaud that years of engagement on local government elections have yielded nothing, he said that while there are instances where advocacy yields immediate positive results, in other situations results come over a period of time.
In the meantime, the PSC chairman says that with the exception of logistics issues he sees nothing preventing local government elections from being held.
Around the Web