Guyana's Foreign Affairs Minister Carolyn Rodrigues-Birkett wants the Organization of American States (OAS) to be more mindful of the continually growing gap between rich and poor in Latin America and the Caribbean.
Addressing the 44th Session of the General Assembly of the Organi-zation of American States (OAS) in Asuncion, Paraguay on June 4, Rodrigues-Birkett told the gathering that the income gap in the Region remains one of the highest compared with other regions.
"Without a doubt, there have been some encouraging developments towards greater equity and social cohesion in the hemisphere. The middle class has expanded by 50%, the region was able to halve the number of people living in extreme poverty down to 13 % and some 70 million people were lifted out of poverty," the minister said. She declared, however, that "notwithstanding these successes, nearly 28 percent of the population of Latin America and the Caribbean are surviving on $2 per day or less." Meanwhile, according to Rodrigues-Birkett, "the richest ten percent of Latin Americans receive 32 percent of total income, the poorest 40 percent receive 15 percent."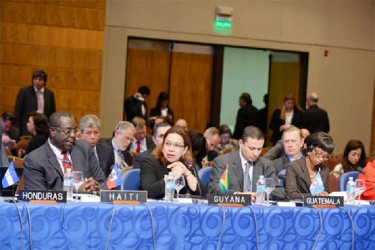 If the region is to close the income gap by 2030, in line with other regions, Rodrigues-Birkett asserted, "We need at least 7.5% growth on a per capita basis." Accordingly, she said that the 2.3% growth forecast for 2014 is a far cry from what is needed.
One consequence of the rich/poor divide, according to the minister is that eighty two million children under the age of 17 are indigent on account of not having completed primary education. "Low levels of education are a prominent characteristic of those living in poverty," she declared.
Minister Rodrigues-Birkett told the Paraguay forum that what these statistics tell us "is that if growth and education are not improved, our hemisphere will be more prone to higher incidences of crime and increased inequality that will erode the efforts being made to promote security and development and preserve human rights and democracy."
Around the Web