Franz Paul, the cadet officer who was accused of shooting 15-year-old Alex Griffith in his mouth on April 30, was on Friday released on $500,000 bail in the High Court.
Paul's attorneys Roger Yearwood and Keisha Chase applied for bail in the High Court before Chief Justice (ag) Ian Chang after he was granted bail by Magistrate Fabayo Azore on Tuesday on two of the charges levelled against him but was denied bail for two others.
Paul was on remand since Tuesday last after appearing at the Georgetown Magistrates' Court where he was granted bail in the amount of $150,000 on the charge of attempting to pervert the law and $75,000 on the charge of assault.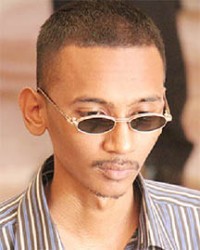 In the High Court, he was granted $300,000 bail on the charge of causing grievous bodily harm and $200,000 on the charge of discharging a loaded firearm with intent.
Another officer, Corporal Baichan Singh was also charged and placed on $150,000 bail on the charge of attempting to pervert the law.
Griffith had told Stabroek News that he had been at a friend's home when a robbery occurred outside. Though he had been unable to see what had transpired, he said, two van-loads of policemen later went to his East La Penitence Squatting area home to question him about the identities of the robbers.
He said he told the ranks that he was unaware of the robbers' identities but was still taken from his home, placed in one of the vehicles and driven around the area. He said the vehicle eventually stopped in front of the home of one of the suspected robbers in the East La Penitence area.
However, the person was not at home and the teen said the accused robber's absence apparently infuriated Paul, who allegedly forced him from the police vehicle and ordered him to lie on the ground, where in an effort to glean information, he allegedly played Russian roulette.
Griffith said that after he was shot, he was dropped off at the hospital by the ranks who left shortly afterwards.
The case will continue on June 30 where statements are to be filed.
Around the Web