He turns nine tomorrow and while little Javier Anderson has not yet gotten his prosthetic leg, he still holds firm that "nothing before its time".
The youngster was diagnosed with Osteosarcoma, an aggressive bone cancer found predominantly in children and had hip disarticulation amputation last Good Friday.
He is currently undergoing chemotherapy and had hoped to receive a prosthetic leg for his birthday tomorrow.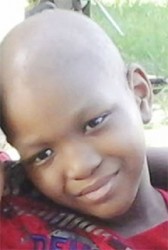 When he was interviewed by Stabroek News last month, the spunky cancer survivor, who is in good spirits, had expressed some frustration that he had finally learned to swim and then lost his leg to cancer. "I want to be back in the water and be able to swim again and play cricket …and you know I will. I just know I will. All I need is a leg," he had said.
However when Stabroek News caught up with him yesterday the prosthesis was not yet a reality, as donations had not reached the amount that was needed, although several pledges have been made.
"Not as yet but nothing before its time …we have had many donations and the support we are grateful for but the leg is a lot of money but I am sure we will," were the lad's words yesterday .
When this newspaper first highlighted his story in early May, his mother had said that it would cost around $500,000 but this was just a figure she had quoted without medical consultation.
Stabroek News was told that the figure would be much higher and that since it's a limb prosthetic, in his case from the hip down, it would not only cost more but the time in physiotherapy would also be longer.
The limb cannot be made locally and Anderson would have to travel to a place where they will custom form his limb, a basic one, and he would have to undergo therapy until he can function well enough on his own with it.
The eight-year-old's family is currently looking at options in having him taken overseas a reality. He has completed his first round of chemotherapy and is preparing for the next even as he attends his physiotherapy once weekly at the Ptolemy Reid Rehabilitation Centre.
An ever-smiling Anderson informed of the support he has received from the public and cheerfully said that today students of Marian Academy will hand over a monetary donation to him.
He said that they had learned of his story and initiated bake sales and other ventures with the aim to raise a donation to give to him.
He is excited about that but most of all he was eager to talk of his birthday plans. "I would like to go to Princess Hotel Fun City with my friends and aunts and uncle and well everybody…to watch 3D movies and play games," he giggled.
He explained that tomorrow a kind stranger has pledged to take treats to his school but that she, like many other donors, do not want their names published.
To those people the eight-year-old said that he is very thankful. "So many people call and they give but they don't want to mention their names. I want them to know that I am thankful very thankful…but I would have liked to mention them," he said.
Further he informed that contributors came from across the country "There are people from Lethem, Linden, Essequibo, Berbice many from Georgetown you name it …thanks everybody," he added.
He named some persons but beforehand mentioned that if he forgets anyone, he is asking forgiveness as he tried the best he could. "Thanks to GBTI and Scotia Bank, to Banks DIH, Julia and Sydney Kendall, Ms Angela Johnson, Marlon Gentle, the old Fire Service, Coleen Marshall, Mr. Lall, Miss Kissoon, Susan Munroe, the Cowboys of Essequibo, the Kanhai's and Broadway Fashions gosh there are more but I can't remember," he said, holding his head.
However, he said that there are also some persons who call his home and as they are wishing him well begin crying and this depresses him. He said too, that some persons have called and told him that he should not be begging the public and this too sometimes saddens his day.
These experiences, he said, he is still trying at his young age to "put behind" him and concentrate on the bright future he sees for himself soon.
He continues to be grateful for his mother's love and support and said that with her help he would re-learn all of his favourite physical activities in time.
The Andersons can be reached at Lot J4, 936 Jackson Street, Tucville or on telephone numbers 223-1068 (home) or 602-7631(mobile).
Around the Web